Main Content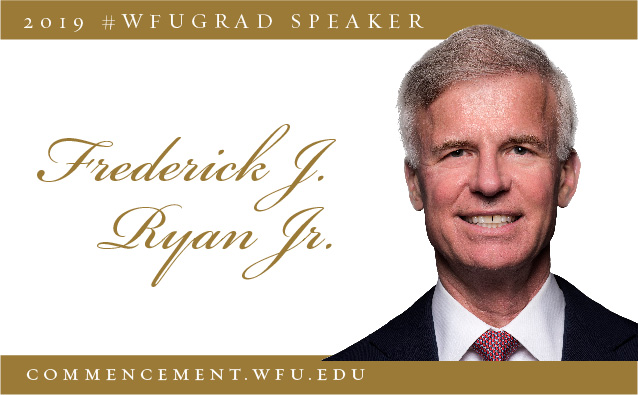 Frederick J. Ryan Jr., publisher and chief executive officer of The Washington Post, will deliver Wake Forest University's commencement address on Monday, May 20.
During his time at The Washington Post, the newspaper has been recognized for excellence in journalism with multiple Pulitzer Prizes, and twice named by Fast Company Magazine as the "World's Most Innovative Media Company."
Until August 2014, he served as President and CEO of Politico, which he co-founded in 2007.
"Fred Ryan, a major innovator in digital communications both at Politico and The Washington Post, is an outspoken advocate for the free press both at home and abroad. In the aftermath of the murder of Jamal Khashoggi, he has repeatedly challenged world leaders to recognize that threats against journalists are threats against freedom," said Wake Forest President Nathan O. Hatch. "We are honored to have him deliver our commencement address."
Ryan served at a senior level in the White House from 1982-1989 and later became Chief of Staff to former President Ronald Reagan. He was responsible for overseeing all of former President Reagan's activities, including domestic and international issues, government relations, political affairs and public relations.
Ryan serves as Chairman of the White House Historical Association and the Ronald Reagan Presidential Library Foundation, and Co-Chair of the National Archives Advisory Committee on Presidential Libraries.
Wake Forest's commencement ceremony is a ticketed event reserved for graduates, their families and guests and is not open to the public. The ceremony takes place on Hearn Plaza at 9 a.m.
A livestream webcast of the ceremony will be available at go.wfu.edu/2019grad.
Previous commencement speakers have included Vice Chairman, Managing Director and Senior Client Advisor at Morgan Stanley Carla Harris (2018), Pulitzer Prize-winning author and presidential historian Jon Meacham (2017) Founder and President of Interfaith Youth Core Eboo Patel (2016), comedian Stephen Colbert (2015), The New York Times' former executive editor Jill Abramson (2014), professional golfer Arnold Palmer ('51) (2005), Secretary of State Colin Powell (2004), and former First Lady Barbara Bush (2001).
Baccalaureate information
Also joining Wake Forest for the commencement weekend will be baccalaureate speaker Gary Haugen, CEO and founder of International Justice Mission (IJM) – a global organization that protects the poor from violence throughout the developing world.
Haugen has been recognized by the U.S. State Department as a Trafficking in Persons "Hero" – the highest honor given by the U.S. government for anti-slavery leadership. His work to protect the poor from violence has been featured by Foreign Affairs, The New York Times, the New Yorker, The Times of India, Forbes, U.S. News and World Report, the Guardian and National Public Radio, among many other outlets.
"Gary Haugen's fight against human trafficking is based on his conviction that compassion can alleviate the suffering of the world's poorest people," said Hatch. "As our graduates prepare to go out into the world, his work offers an inspiring example of pro humanitate in action. We look forward to hearing his baccalaureate address to the graduates."
He is the author of several books, including "Good News About Injustice" (Intervarsity Press) and, most recently, "The Locust Effect: Why the End of Poverty Requires the End of Violence" (Oxford University Press).
Before founding IJM in 1997, Gary was a human rights attorney for the U.S. Department of Justice, where he focused on crimes of police misconduct. In 1994, he served as the Director of the United Nations' investigation in the aftermath of the Rwandan genocide.
Baccalaureate will take place Sunday, May 19 at 9 a.m. in Wait Chapel. Like commencement, baccalaureate is a ticketed event reserved for graduates, their families and guests and is not open to the general public. A livestream webcast of Baccalaureate will be available at http://go.wfu.edu/bacc19.
2019 Honorary Degree Recipients
The following individuals will receive honorary degrees at commencement: Commencement speaker Frederick J. Ryan Jr.; baccalaureate speaker Gary A. Haugen; Julius LeVonne Chambers, former Director-Counsel, NAACP Legal Defense Fund and former Chancellor, N.C. Central University (posthumous); Jeffrey A. Davis, EVP and Chief Financial Officer, Qurate Retail Group; Carla Hayden, Librarian of Congress; Sandy Ouellette, President, R and S Ouellette Inc.; Philip A. Pizzo, former Dean, Stanford Medical School.  
Additional information about Wake Forest's commencement weekend is available at commencement.wfu.edu.
Categories: Top Stories
Subscribe
Sign up for weekly news highlights.
Subscribe