Main Content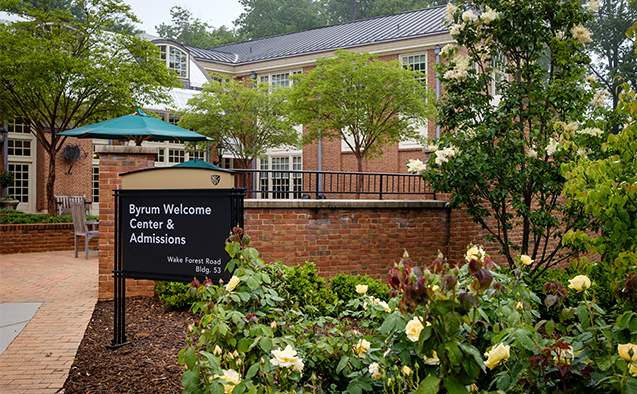 Highlights
Eric Maguire is a first-generation college student known for his success in recruiting highly talented undergraduates, prioritizing academic excellence and increasing socioeconomic, racial and ethnic diversity.
The new vice-president for enrollment position aligns undergrad admissions and financial aid functions.
Wake Forest University has appointed Eric Maguire as vice president for enrollment. Maguire, who currently serves as vice president and dean of admissions and financial aid at Franklin & Marshall College, is known for his success in recruiting highly talented undergraduates, prioritizing academic excellence and increasing socioeconomic, racial and ethnic diversity.
Wake Forest President Nathan Hatch created the new vice president for enrollment position to enhance the University's ability to attract the best students by strategically aligning undergraduate admissions and financial aid functions. In this role, Maguire will have broad responsibility for recruiting, admitting and enrolling undergraduate students.
"Eric Maguire is a national thought leader in higher education enrollment who will bring creativity and strategic vision to this important role." Wake Forest University President Nathan O. Hatch
"Eric takes an innovative, student-centric and data-driven approach to admissions, which we are confident will build upon our success in attracting outstanding students to Wake Forest," said Wake Forest University President Nathan O. Hatch. "We fully expect he will bring an even greater diversity of backgrounds, perspectives, talents and experiences to our campus community."
Maguire will join Wake Forest July 1.
"At Wake Forest, I envision enrollment outcomes which yield even greater academic achievement, diversity of experience, extracurricular accomplishment and community engagement," Maguire said. "Working in collaboration with dedicated colleagues in admissions and financial aid and with other campus constituents, we can achieve a new level of enrollment success."
He has a commitment to, and experience in, helping create more inclusive learning communities in American higher education.
"I was able to contribute to such efforts at both Ithaca and Franklin & Marshall Colleges, and I have seen the profound impact such changes make on a college campus," said Maguire. "Changes to the student body add new perspectives to classroom discussion, raise important questions for campus consideration, and enrich the teaching and learning environment for all."
"As a first-generation college student myself, I am deeply committed to increasing access for underrepresented and underserved students." Eric Maguire
A national search was announced in the fall. The 12-member committee – co-chaired by President Nathan Hatch and Provost Rogan Kersh – recommended Maguire's appointment.
At Franklin & Marshall, Maguire was promoted to increasingly critical positions, responsible for financial aid strategy, enrollment research and analysis and admissions operations. He has served in his current role since 2015 and had previously served the college in a variety of roles from 2000 to 2009. During his tenure, Franklin & Marshall achieved important benchmarks for Pell and first-generation enrollment, while setting new records for average SAT, domestic student of color representation, and international diversity.
As vice president of Ithaca College's Office of Enrollment and Communication from 2009-2015, he led an integrated team from the offices of admissions, career services, enrollment planning, institutional research, marketing communications and student financial services. Under his leadership, the college increased applications by more than 40 percent and achieved a record-setting increase in representation for first-year students from underrepresented groups.
"Eric's shared sense of our institutional values, combined with his analytic and strategic experience, makes him an ideal addition to the Wake Forest community." Rogan Kersh, Wake Forest University Provost
"I am grateful to the search committee for finding such an exceptionally well-qualified next leader of undergraduate admissions and enrollment," said Provost Rogan Kersh.
Using a holistic, personal approach to admissions, Wake Forest draws students from across the country and around the world who have excelled academically, shown intellectual curiosity and creativity, and demonstrated strong character.  For the undergraduate class entering in fall 2018, Wake Forest received nearly 13,000 applications for a class of 1,400.
When Wake Forest adopted a test-optional policy in 2008, it was the first top-30 national university to do so. Franklin & Marshall and Ithaca College also have test-optional policies, giving Maguire extensive experience with an undergraduate admissions process that does not require standardized test scores.  He is the author of a chapter on test-optional admissions in the book Measuring Success: Testing, Grades, and the Future of College Admissions and has been a conference presenter at the National Association of College Admission Counseling.
"Eric Maguire is a superb leader of admission and financial aid who understands academic excellence, institutional priorities, data science and student needs and interests," said Daniel R. Porterfield, who served as president of Franklin & Marshall during much of Maguire's tenure there and now serves as president of the Aspen Institute.  "He has a keen eye for student talent and is profoundly committed to diversity, equity and inclusivity. He'll involve staff, faculty, alums and students themselves in the process of recruiting and enrolling each new class of students — and help Wake Forest continue to grow its impressive rise as a truly distinctive national university."
Maguire holds a bachelor's degree in psychology from Muhlenberg College and a master's degree in higher education administration from Indiana University, where he also served as assistant director of admission.
Martha Allman, who has served as dean of admissions since 2001, will assume the role of senior assistant provost in July. Under Allman's leadership, Wake Forest saw applications double and the University became a leader in the movement to make standardized tests an optional component of student applications.
From the search committee
Categories: Admissions, Top Stories, University Announcement, Wake Forest College
Broadcast Studio
Wake Forest University's Office of Communications and External Relations operates a fully equipped, professional television and radio studio to connect faculty members and campus newsmakers with global news media.