Main Content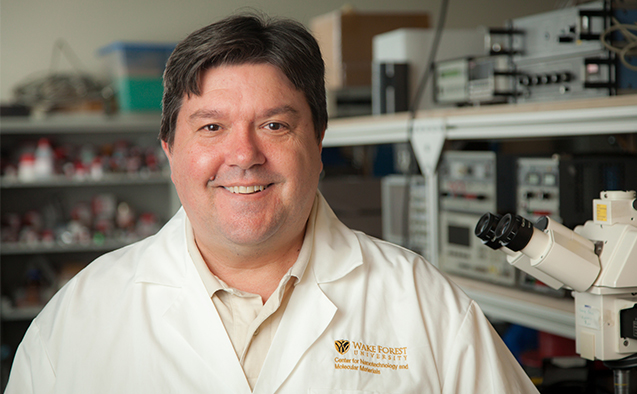 The WFU Awards and Recognitions briefs celebrate milestones of faculty, staff and students at Wake Forest.
Prestigious journal highlights WFU physicist's work
Wake Forest research into technology that would make the resolution of TV screens and computers up to three times greater has received tribute from a prestigious journal covering optics and electroluminescence.
"Tailoring spin mixtures by ion-enhanced Maxwell magnetic coupling in color-tunable organic electroluminescent devices" was selected by Light: Science & Applications, one of the Nature family of scientific journals, for special target promotion via Web of Science.
David Carroll, director of the Center for Nanotechnology and Molecular Materials, is the corresponding author on the paper. Web of Science indexes significant scientific research for citation based on impact, influence, timeliness, peer review and geographic representation.
Carroll, who holds 12 patents, has focused much of his research in the past several years on finding highly efficient and inexpensive light-emitting technology for everything from mobile phone screens to room lighting.
WFU associate professor's book receives award nomination
"From Stone to Paper: Architecture in the Late Mughal Empire," written by Chanchal Dadlani, associate professor of art history at Wake Forest, has been nominated for the Kenshur Prize. The Kenshur Prize is awarded annually by the Indiana Center for Eighteenth-Century studies to the best book in eighteenth-century studies in any discipline. The winner will be announced in August and the author will be invited to attend a symposium dedicated to discussion of their book.
---
Upcoming opportunity for area high school students:
Application open for Winston-Salem mini-camp college program
Wake Forest University, in collaboration with the Southern Association for College Admission Counseling (SACAC), will host the Winston-Salem Mini-Camp College Program on June 13 to offer high school students structured sessions with college professionals who will demystify the complexities of college admissions and the process of financial aid. The program runs from 9 a.m. to 3 p.m.
Rising juniors and seniors attending North Carolina high schools are eligible to apply. The application deadline is June 5. Space is limited. Registration and parking are free. For more information or to apply, please visit the Mini-Camp College website or call 336-758-5201.
Categories: Events, Faculty, Recognition, Top Stories
Subscribe
Sign up for weekly news highlights.
Subscribe