Main Content
Highlights
"Suited Up," a new program for Wake Forest Division I student-athletes, tailors personal and career development to student-athletes' demanding schedules.
After competing 5 career sessions, participants applied for short-term flexible internships with local organizations eager to provide workplace experience.
The program is led by two alumna who were student-athletes at Wake Forest.
At 6 a.m. the alarm rings. Mornings are for workouts followed by classes and tutoring. Afternoons include additional activities that all Division I level student-athletes take on to compete at the highest level of their sport such as attending film sessions, rehab and therapy, sports performance training and nutrition counseling. A student-athlete's summer schedule is full but familiar.
Committed college athletes have been focused on excelling in their sport for most of their academic lives. The endgame is a scholarship to a top school and a chance to go pro. It's a big dream that leaves little time to plan a parallel career path.
"Growing up, I was a small-town kid who wanted to play football. It wasn't until this year that I realized I had no workplace experience and no game plan if I didn't go pro." Ja'Cquez Williams, senior communication major and Wake Forest linebacker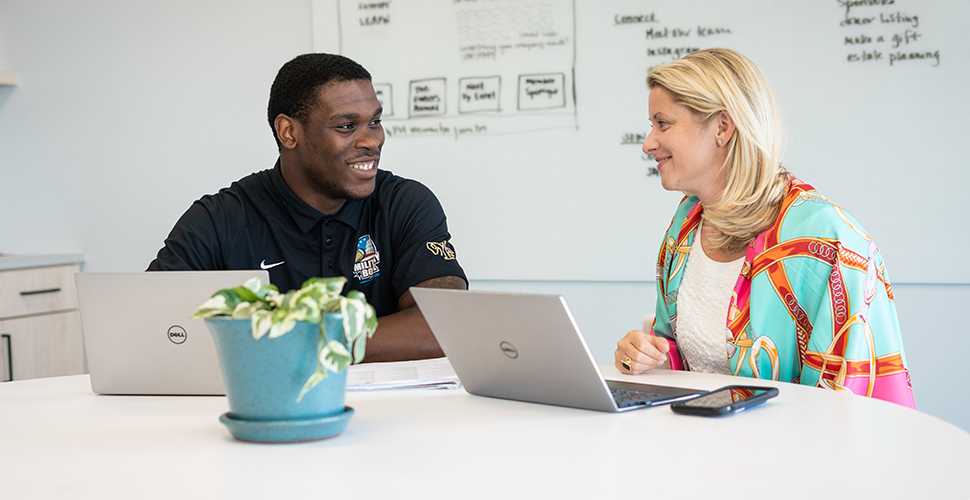 With fewer than 2% of NCAA student-athletes landing professional sports careers, Wake Forest's Student-Athlete Development helps students in all Division I sports learn how to pivot – to keep their eyes on their goals, while planning for a successful career once their sport is over.
This spring, with full support from Athletics Director John Currie and the team coaches, Ashley Wechter, assistant athletic director of student-athlete development, and Brooke Thomas, assistant director of student-athlete development, launched "Suited Up" in partnership with Wake Forest's Office of Personal and Career Development. The program tailors the University's nationally-recognized holistic approach to personal and career development to student-athletes' demanding schedules.
For the pilot Suited Up program, 15 students from the football team participated. Student-athletes in field hockey (2), men's (2) and women's (1) basketball, men's (2) and women's (1) soccer, women's track (3) and volleyball (1) also completed the career readiness program and participated in tailored internships created through the partnership between Student-Athlete Development and local organizations.
Both Wechter and Thomas are Wake Forest grads and former student-athletes – track and field/cross country and basketball respectively.
"Brooke and I know that when you've been playing a sport most of your life with the hope of going pro, it feels like giving up on your dream to prepare for if that doesn't happen." Ashley Wechter, assistant athletic director of student-athlete development
"But when you graduate with no resume, no work experience and no network, you're headed back to your hometown to start the job search at a disadvantage," said Wechter. "Wake Forest athletics is committed to helping our student-athletes be prepared for post-graduation success. As the program leaders, student-athletes know we're authentic. We've been in their place and we understand the challenges."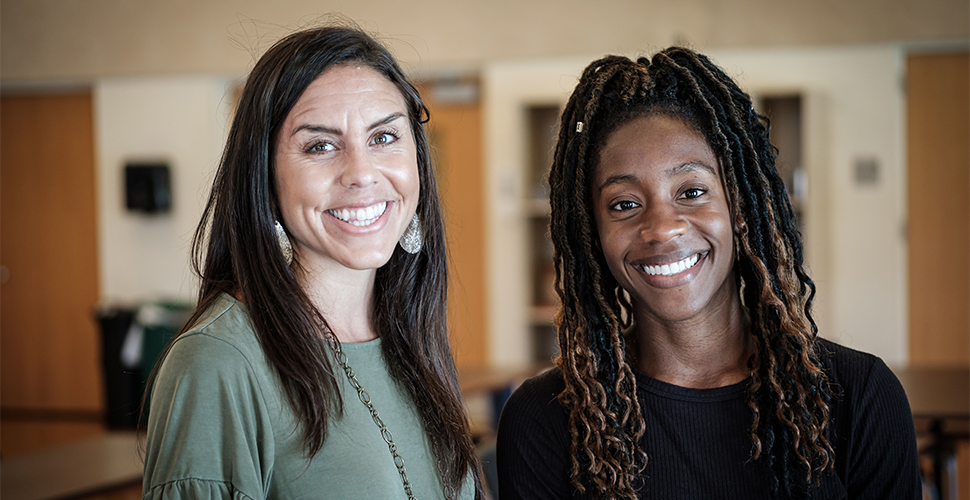 The 27 student-athletes recruited to participate in the pilot program attended five 45-minute career development sessions that included taking a strengths self-assessment, identifying transferable skills, writing a resume, creating a networking log and conducting a job search. After completing the sessions all the athletes in the program were invited to apply for tailored internships. But, they had to do the work to get the job.
"We chose the workshop format to bring groups of athletes together rather than working with one student at a time. In addition to being more efficient, the students share similar experiences as college athletes and feel comfortable working together and bouncing ideas around," said Thomas. "But having an action at the end of the program proved key to success."
Finding local organizations willing and able to offer short-term flexible internships was an important part of developing the program. Those who understood the impact they could have found the experience rewarding both for the organization as well as the student-athlete.
Kate Reece, executive director of the Center for Private Business, was eager to give back to her alma mater. The Center's membership includes 180 businesses and companies from across North Carolina whose leadership is always looking for their next hire.
"Larger, more traditional businesses have less ability to offer flexible internships. As a nimble organization, we were able to accommodate Ja'Cquez's already full schedule, and the outcome was beneficial for both of us," Reece said. "By joining in on meetings and working with our partners, he has been able to network with business leaders statewide, and we have benefitted from his good work and the energy he brings to the Center."
Another advantage to local internships and networking is the increased opportunity for talented student-athletes to remain in North Carolina after they graduate, rather than taking their talents elsewhere.
"I know what it's like to execute at the highest level on the field," Williams said.
"Kate gave me the opportunity to experience how my skills could be used in a business setting. The career sessions with student-athlete development and my summer internship opened my eyes to the other side of the gridiron." Ja'Cquez Williams, senior communication major and Wake Forest linebacker
Senior economics major and defensive back Keegan Good wanted work experience in finance or accounting but was hampered by the lack of opportunities that would fit his schedule – most of which required full-time hours. Wechter and Thomas worked with Dyehard Fan Supply, a Winston-Salem sports retail solutions provider, to create a space for a student-athlete.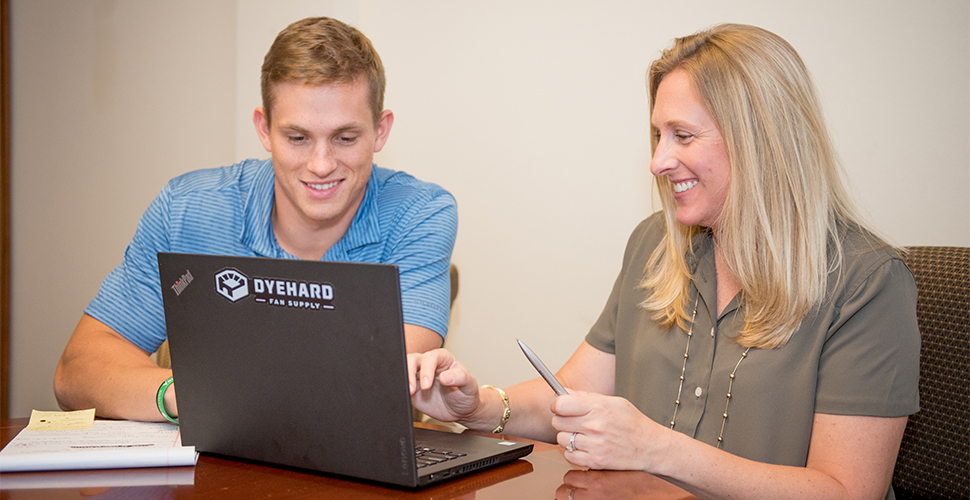 "Keegan's work ethic was above and beyond what was expected. He quickly became part of our team and took ownership of projects given to him. He offered to work beyond his scheduled hours to help." said Carrie Stankwytch, a senior financial analyst at Dyehard Fan Supply who managed Good during his internship. "He never waited to be told what to do, instead he asked what he could do next to help."
Juggling multiple schedules, showing up ready to play and having your teammates' backs are resume highlights for all top student-athletes.
"My entire life in athletics I've been in a team environment working towards a common goal. But being in the workplace is very different from being in the classroom or on the field," said Good.
"Finding organizations who are willing to work with us is critical to helping student-athletes understand how to be team players in the office space and to learning how our skills on the field can transfer into whatever we do in the future." Keegan Good, senior economics major and Wake Forest defensive back
Wechter and Thomas hope to have 50 student-athletes enrolled for the next round which means they will need to find more opportunities and more companies to partner with.
Twenty-four local organizations offered flexible internships to the student-athletes including:
| | |
| --- | --- |
| ACC Championships | RS&A |
| Center for Private Business | Structure Music Group |
| College Magazine | Sunshine Beverages |
| Dairi-O Restaurants | Throwback Tournament |
| Deacon Club | Upper South Studio |
| Dyehard Fan Supply | Verger Capital |
| Fleet Feet | WFU Marketing Team |
| Gilbarco Veeder-Root | WFU Nutrition Team |
| Kwikr | WFU Special Events and Hospitality |
| National Sports Media Association | Winston-Salem Dash |
| Northwestern Mutual | Winston Starts |
| Rent Assured | YMCA |