Main Content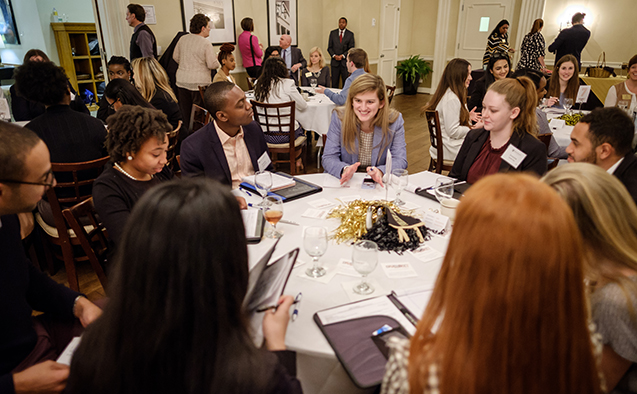 Employers and colleges have parallel challenges. Employers want to bring diverse candidates into their organizations. Colleges want to help these students get there. But, of the nearly 17 million undergraduate college students nationwide, 80% bypass their school's career centers for advice on networking and finding jobs.
Wake Forest will host its fall Diversity Matters career event in the Benson University Center on Tuesday, Sept. 10 at 6 p.m. The event connects students who identify as diverse with employers looking for diverse talent. Media are welcome to attend. More than 30 employers and 100 students are expected to take part.
Wake Forest's Diversity Matters is an all-inclusive, twice-a-year event that brings students and employers together for a networking opportunity the day before the University's fall and spring career fairs.
Junior politics major Miles Middleton participated in Diversity Matters as a first-year student and again as a sophomore. During his second year Diversity Matters experience, Middleton had a conversation with a recruiter from a Washington think tank. "We got along well. When she saw my name on a list of possible candidates for an internship opening, she remembered me and interviewed me. Twenty minutes later I got a call offering me the position. This isn't bragging about myself; it shows how the Diversity Matters fair builds networks that lead to opportunities."
This year, Middleton is the keynote speaker at the event.
"Wake Forest's Diversity Matters goes beyond the simple meet and greet reception to provide space for meaningful conversations." Lee Svete, Associate vice president, Office of Personal and Career Development
During the event, students talk with recruiters from a variety of industries. They choose from among the participating employers which conversations they want to join based on their interests. In the process of gathering together for conversations, students who may have been reticent become more comfortable in the discussions. They begin to understand the importance of diverse perspectives to the bottom line.
When organizations are offering products and services to customers worldwide, diversity really does matter in understanding the needs of all clients.
"Connecting diverse students to employers means making sure they literally have a seat at the table," says Cheryl Hicks, associate director of diversity and inclusion programs at Wake Forest. "At the family table, there is conversation, debate and sometimes respectful conflict. A seat in the boardroom is similar. We need diversity at that table as well, and it starts by helping students understand the value they bring to the organizations by virtue of their talents and lived experiences."
Lee Svete, associate vice president in the Office of Personal and Career Development (OPCD), says providing opportunities for diverse students to meet with employers in this kind of personalized venue is not always common among colleges and universities. "Wake Forest's Diversity Matters goes beyond the simple meet and greet reception to provide space for meaningful conversations and connections to internships and job opportunities. There is also advance preparation for students and employers."
University career coaches help prepare students for the event, making sure resumes are in top shape, questions are prepared, and there is a plan to follow-up with recruiters after the event. Students who need financial help with clothing for the interview or a portfolio or a briefcase receive support through a Kirby Foundation grant.
The National Association of Colleges and Employers recognized OPCD's Diversity Matters with the "2019 Diversity and Inclusion Excellence Award." Wake Forest's holistic four-year college-to-career program for personal and career development is celebrating its 10th anniversary this year.
Categories: Community in Progress, Events, Personal and Career Development, Staff, Student, Top Stories
Subscribe
Sign up for weekly news highlights.
Subscribe