Main Content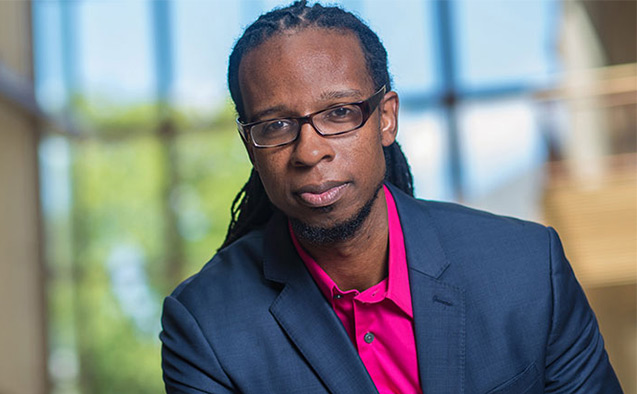 Wake Forest University and Winston-Salem State University (WSSU) are partnering again this year to celebrate the life and legacy of Dr. Martin Luther King Jr. with events during the holiday weekend. The collaboration on the keynote speaker is in its 20th year, marking the longest-running partnership between Wake Forest and WSSU.
MLK Keynote Speech
On Monday, Jan. 20, at 7 p.m. in Wait Chapel, Ibram X. Kendi will deliver the keynote speech. This year's theme is "On Common Ground: Lifting As We Climb" and highlights a commitment to create a society that provides resources and representation to every individual through a constant pursuit of justice and equity.
The event is free and open to the public.
Kendi is a professor of history and international relations and the founding director of the Antiracist Research and Policy Center at American University. A 2019 Guggenheim Fellow, his New York Times best-selling book "How to be an Antiracist" reenergizes and reshapes the conversation about racial justice in America, offering liberating new ways of thinking about ourselves and each other.
Kendi has published numerous academic essays as well as op-eds in publications including The New York Times, The Washington Post, Time, The Guardian and The Chronicle of Higher Education. He is also the author of the award-winning book "The Black Campus Movement: Black Students and the Racial Reconstitution of Higher Education, 1965-1972." In 2018, he was named a columnist for The Atlantic focusing on ideas, opinions and political and cultural commentary.
The keynote will also include musical selections from the Wake Forest Gospel Choir and the WSSU University Choir. There will be a book signing immediately following Kendi's address, and copies of his book are available for purchase at the Wake Forest University bookstore. Media is invited to attend. Videotaping and still photography are allowed.
Other Events
Earlier in the evening on Jan. 20, Winston-Salem State is hosting an invitation-only banquet where students and faculty or staff from both Wake Forest and WSSU will receive the "Building the Dream" award in recognition of their efforts toward improving social justice and building community.
On Saturday, Jan. 25, inside the Donald J. Reaves Student Center, WSSU will host the 11th annual MLK Day of Service Read-In from 10 a.m. to 1 p.m. Check-In starts at 9:30 a.m. and snacks and refreshments will be provided.
The event promotes King's legacy of service, literacy and community empowerment for children ages 4-11. Children will be paired with a "reading buddy" volunteer who will read to them and accompany them as they participate in various activities. Each child will receive at least one new, age-appropriate, civil rights-themed book as well as a donated, age-appropriate children's book to take home.
People who want to donate books for this year's Read-In can drop them off at the Office of Civic and Community Engagement, 503 Benson University Center, on the campus of Wake Forest University. Organizers will also accept monetary donations that will be used to purchase books for children. The Read-In is organized by Wake Forest, WSSU, HandsOn Northwest North Carolina and the University of North Carolina School of the Arts.
Parents or guardians must sign up their children online. For specific questions about the Read-In, please contact Jasmine Hodges at hodgesj@wfu.edu or 336-758-4551.
Categories: Events, Faculty, Staff, Student, Top Stories, Valuing Diversity
Wake Forest in the News
Wake Forest regularly appears in media outlets around the world.