Main Content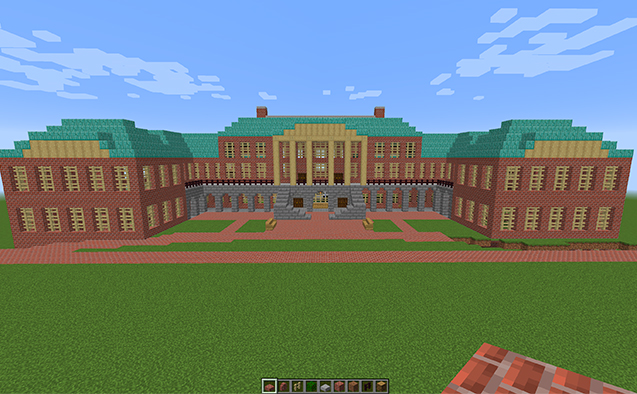 When Declan Sander learned that Wake Forest classes would be taught remotely for the remainder of the semester because of the COVID-19 pandemic, the freshman from Hendersonville, N.C., was disappointed.
But instead of stressing over something he couldn't control, Sander decided to channel his energy into recreating the Reynolda campus on Minecraft.
"Just about everything was closed, I was bored and I started thinking about building the campus," he said. "The first night I worked on it, I stayed up until 2 a.m. building the grass on the upper quad on Hearn Plaza."
"I sent a picture of the foundation for Reynolda Hall to my Wake friends via group chat and they thought it was a good idea and encouraged me to keep going." Declan Sander ('23)
Since they returned home because of the coronavirus, college students across the country have been recreating their campuses on Minecraft, the second best-selling video game of all time that allows players to use in-game blocks to create whatever they imagine. The University of Pennsylvania, UCLA and UNC-Chapel Hill are among institutions that have had all or parts of their campuses recreated.
Minecraft can be played in creative mode, with infinite movement that allows users to build large projects, or in survival mode, whereby players harvest resources. Sander is using creative mode and so far has completed Reynolda Hall, Benson University Center and Davis Residence Hall.
He's putting in about two hours a day, estimates it'll take two to four months to finish and said he enjoys the collaborative nature of this trend. For example, he recently saw a build from the University of Iowa and picked up a few ideas. Likewise, he hopes his rendition inspires others.
His younger sister, Eliza, 16, has helped him with small tasks like filling in grass on the quad or putting in windows.
Sander said he's fascinated and excited that the Wake Forest campus will exist in Minecraft as a relic of these unprecedented times and anticipates many Minecraft users will download his world file and interact with it once they have access.
"While I'm building, there are some places on campus that will make me remember something that happened with my friends and … tug at my heart." Declan Sander ('23)
"I started doing this because I miss Wake Forest so much. It's very relaxing to work on," he said.
To interview Sander, please contact media@nullwfu.edu.
Categories: Student, Top Stories