Main Content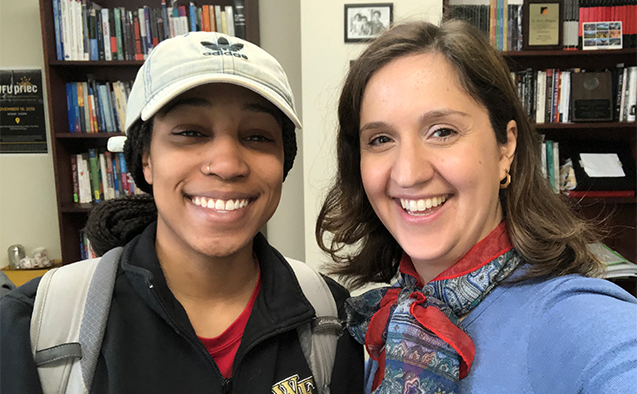 As civil unrest continues across the country and with fall sports in jeopardy because of the COVID-19 pandemic, two Wake Forest professors are examining how professional athletes' political statements have the ability to impact people's racial attitudes.
Betina Wilkinson, associate professor of Politics and International Affairs, and Lisa Kiang, professor of psychology, are using surveys to focus on the extent to which a professional athlete's political statements and race can influence people's stances on racial policies.
Wake Forest senior Indy Cousin, a politics and international affairs major from Kansas City, Missouri, is assisting with the research project.
"Our study focuses on the extent that professional athletes' statements on criminal justice reform, police brutality or the Black Lives Matter movement change people's attitudes on these topics." Betina Wilkinson, associate professor of Politics and International Affairs
"We argue that being exposed to a sports elite's statement on criminal justice reform or Black Lives Matter — often not in accordance with statements normally made by athletes — shifts an individual's stance on criminal justice reform or Black Lives Matter, particularly among those who are part of a sports elite's in-group, meaning they're of the same race and identify as a big sports fan of the NFL, the NBA or MLB," Wilkinson said.
Wilkinson, Kiang and Cousin will rely upon survey data that was collected at Wake Forest last spring and national online surveys, which they're conducting now.
"Preliminary findings reveal that Colin Kaepernick's statement on police brutality and racial injustice is effective," Wilkinson continued. "Those who were exposed to Kaepernick's statement were significantly more likely to support criminal justice reform than those who were not exposed to the statement."
Kaepernick is a former NFL quarterback who began kneeling during the playing of the national anthem in 2016 as a means of protesting racial injustice and police brutality against African Americans. He became a free agent the next season and his contract was not renewed. He has not played professionally since.
Additional surveys this summer will examine the effectiveness of statements made by players such as New Orleans Saints quarterback Drew Brees, Milwaukee Bucks guard Kyle Korver and National Women's Soccer League superstar Megan Rapinoe.
Brees came under heavy fire earlier this year for criticizing people who kneel during the National Anthem and quickly apologized publicly for his remarks. Korver gained notoriety in April 2019 after writing about white privilege and racism in The Players' Tribune. Rapinoe has been outspoken about gender pay equity, racism and LGBTQ rights.
"Because of my colleague Professor Lisa Kiang, our paper has developed its theoretical contribution," Wilkinson said. "Because of her access to the psychology lab, we were able to conduct surveys of Wake Forest students this past spring. Likewise, I'm grateful for Indy's dedication and passion for this project, specifically her content analysis data to which she's dedicated a significant amount of her summer."
Cousin has spent the last few months analyzing professional athletes' Twitter accounts to gauge how much they're writing about Black Lives Matter and other political topics. She has also noted when they've been quoted in newspaper articles on topics involving race.
Wilkinson wanted to do the study, in part, because in recent years professional athletes have been more outspoken about issues of race. NBA stars LeBron James, Dwyane Wade, Carmelo Anthony and Chris Paul ('07), among others, have spoken out against racism. Paul was a superstar member of Wake Forest's men's basketball team from 2003-2005 and is president of the National Basketball Players Association.
"Every summer, I really enjoy working with students on research," said Wilkinson, whose interest is in American politics with a focus on race and ethnicity, public opinion and political behavior. "I started doing some survey experiments last summer and also did some this past semester. I'd show participants a statement on criminal justice reform, Black Lives Matter or another topic, and then I'd ask their views on it."
Plans are to conduct three national surveys on about 5,000 people, with respondents randomly assigned to the treatment group or the control group, in which they're not exposed to a player statement on race. Wilkinson, Kiang and Cousin are collecting data now and anticipate having most of it analyzed by the end of September.
Respondents will be representative of the U.S. population based on race, education levels and age, Wilkinson said. The survey begins with questions designed to gauge how big of a sports fan they are and what sports teams they follow. It also asks how they identify by race. After those questions, respondents are asked their stances on criminal justice reform, followed by more demographic questions including age, gender and political affiliation.
Wilkinson and Cousin will present their survey findings virtually at The American Political Science Association Meeting in September. Cousin will also present her content analysis findings, as part of an individual poster presentation, at that time.
To interview Wilkinson or Cousin, contact media@nullwfu.edu.
Featured image: Indy Cousin ('21) and Betina Wilkinson
Categories: Community in Progress, Faculty, Research, Top Stories