Main Content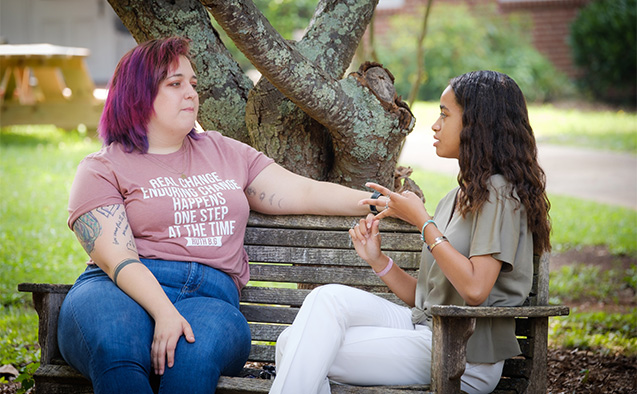 Kaylin M. Henderson is passionate about children and educational equity.
"When I was younger, I had to drive an hour to attend a school with good, quality education," said Henderson, a Wake Forest University rising junior who's majoring in political science with minors in history and Spanish. "It was the same for my younger brother, Marlon, growing up."
This summer, Henderson is working as an educational intern with Love Out Loud through Wake Forest's Summer Nonprofit Immersion Program, or SNIP. She has spent considerable time assisting Kellie Easton, executive director of Action4Equity, on her Pre-K Priority program.
"I do a lot of work for her identifying barriers for pre-k registration, specifically for black and brown communities," said Henderson of Dallas. "Most days I have at least one or two meetings with different community organizers, and then I spend the rest of the day working on ongoing projects. We also have staff meetings and intern meetings throughout the week."
Twenty-one Wake Forest students are serving as AmeriCorps VISTA Summer Associates through the Office of Civic & Community Engagement's (OCCE) AmeriCorps VISTA project and the Winston-Salem Community Action Coalition. AmeriCorps provides a living stipend and money for educational expenses. The OCCE provides training and workshops on nonprofit management and community development and skill-based workshops on communication, grant writing and other expertise.
Students have worked since May 24, and when the program ends July 31 they will have served a collective 8,064 hours, said Shelley Sizemore, director of community partnerships in the OCCE.
"They have to submit an application and a cover letter," Sizemore said. "We do interviews with them typically after we've already selected the partner sites and know what kind of skills we're looking for. We look at alignments between the students' interests and what the partner sites do, and that's how we make matches."
Liz Miller, Love Out Loud's operations and partnership director, spoke highly of Henderson. "One of the biggest issues in our community is access," Miller said. "We have a ton of resources and philanthropy, but there's a disconnect between the programs and the resources and the people that need them. Kaylin's work has really helped identify barriers and challenges in completing pre-k registration. She has done research for pre-k expansion, best practices from other communities and supported infrastructure to provide a strong foundation for continued early childhood initiatives through Love Out Loud and Action4Equity's partners."
Isabelle F. Lord, a senior psychology major with a minor in environmental studies, is interning at The SHARE (Supplying Honest And Respectful Engagement) Cooperative of Winston-Salem and the Institute for Dismantling Racism. SHARE Co-founder and Institute director Willard W. Bass, Jr. couldn't say enough about her.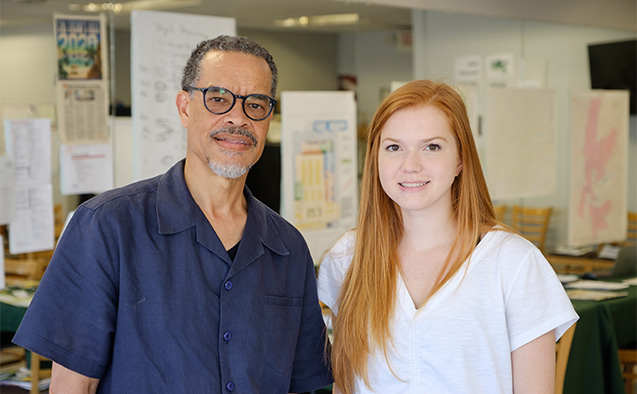 "Isabelle is an outstanding student. She's independent, creative and a self-starter," Bass said. "She came to us because she was interested in justice work. We're intentionally diverse, inclusive and equitable, so the work we do is always transparent, responsible and accountable. She's definitely been an asset …we hate to lose her."
Lord, of Columbia, South Carolina, oversees social media, the newsletter and ensures SHARE has a presence at relevant community events, like the city's Juneteenth Celebration and The Big Chill — The Shalom Project, for example.
"The biggest thing I've learned is that I'm really interested in non-profit work," Lord said. "It's something that really wasn't on my radar coming into Wake, but now I'm a rising senior and it's nice to have a little bit of direction. I think the SNIP Program really set me on the right path."
Rising senior Jordan Allbrooks is working for The Partnership for Prosperity from her home in Brooklyn, New York. Last summer she interned at Dress for Success through SNIP.
"I handle all of the social media and work on blogs," said Allbrooks, a communications major who's minoring in journalism. "I like what they stand for and their mission because they're working to cease childhood poverty in east Winston-Salem, specifically in Castle Heights."
Allbrooks said she hasn't encountered any problems working remotely.
"I still contact my supervisors and have the same weekly check-ins as the students who are working on site, so it's been pretty much the same consistency of work."
Sizemore is grateful for Henderson, Lord, Allbrooks and all of Wake Forest's SNIP interns.
"I really think the reason the program is successful is because the students and partners were all committed to it being successful," she said. "The students come in knowing that a lot will be expected of them, and they don't disappoint."
To interview Henderson, Lord, Allbrooks or Sizemore, please contact media@nullwfu.edu.
Categories: Student, Top Stories
Subscribe
Sign up for weekly news highlights.
Subscribe