Main Content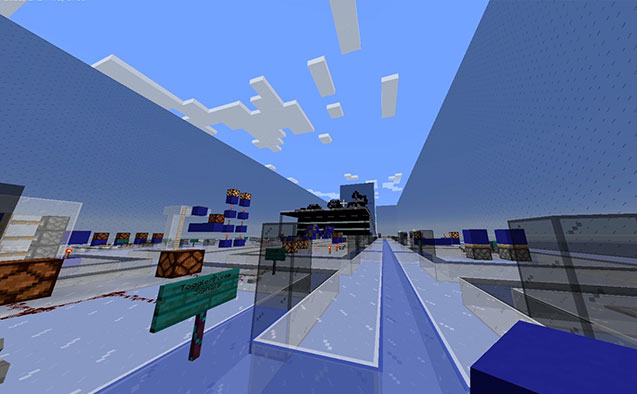 Imagine if in elementary school, you were learning computer coding, how to use editing software, creating a video game, or adjusting the tone, contrast or color in a photo.
A new startup, ByteSize Learning, offers computer skill-building classes for school-age children from 8 to 18. The virtual classes are taught by college students and include topics like graphic design, digital music production, and video editing. The project-based courses take students beyond the basics of using a computer to take a test or attend a Zoom class and instead bring them into their own creative space.
Wake Forest senior Andrew Rust founded ByteSize Learning with his friend Ayden Hochstein, a senior at N.C. State. The two were roommates at the North Carolina School of Science and Mathematics in high school and bonded over their mutual interests in computing and software.
At their tent in the Marketplace of Ideas, visitors to the IdeasCityWS festival can try out ByteSize Learning software using interactive computing stations. Rust and Hochstein will be there to help people explore how their software courses in technology and multimedia engage children and young adults.
"Ayden and I wondered why it was so late in our education that we learned to code, edit a video or create music using a computer. Kids should have access to this knowledge long before coming to college," said Rust. "Once we noticed this gap in education, we started thinking about how we could close it."
Over the summer, Rust and Hochstein partnered with Wake Downtown and El Buen Pastor Latino Community Services to host an in-person demonstration to teach children how to make music online. With Wake Forest's Friends-in-Stem group, they did a demonstration on video game design through a Zoom meeting. They hope to host another opportunity this fall.
Rust, an engineering major and New Bern, North Carolina, native, also studies computer science and mathematics. Though he does not see himself as a teacher, he admits there may have been early signs he might become one.
"When I was in third grade, the teacher was getting fed up with the class, so I jumped in to help out," Rust said.
A highlight of the IdeasCityWS Festival will be the Marketplace of Ideas with interactive exhibits from two dozen local creative organizations representing progressive contributions in art, tech, design and culture.
Categories: Events, Top Stories
Wake Forest in the News
Wake Forest regularly appears in media outlets around the world.