Main Content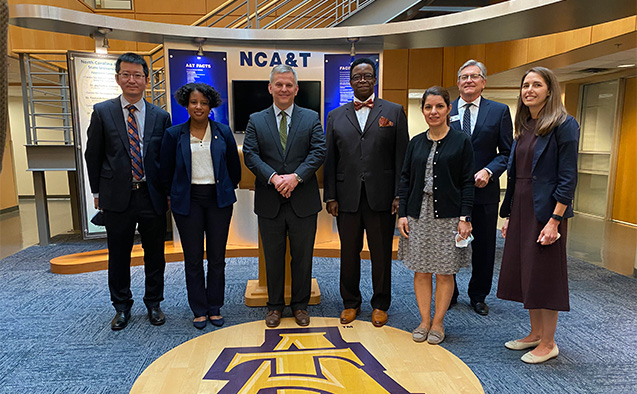 Wake Forest University assistant professors of engineering Courtney Di Vittorio and Kyana Young, in collaboration with professors at two area institutions, have received a three-year, $250,000 Environmental Enhancement Grant (EEG) from the Attorney General's office.
The grant and two others were announced Oct. 20 by North Carolina Attorney General Josh Stein inside the Fort Interdisciplinary Research Center on the campus of North Carolina Agricultural and Technical State University in Greensboro. Joining Di Vittorio and Young on the grant are Leila Hashemi Beni, an assistant professor in the College of Science and Technology at N.C. A&T, and Christopher M. Zarzar, an assistant professor in the Department of Environmental, Earth and Geospatial Sciences at North Carolina Central University.
Titled "A Comprehensive and Low-cost Water Quality Monitoring System for North Carolina Lakes," the project will develop low-cost, lake water quality monitoring systems using drones and satellite data and train volunteers in a community-based program to collect water-quality data.
Stein said this year's process was very competitive, with a special priority placed on applications that emphasized environmental justice. "For too long, communities of color have borne the burden of pollution, and I'm proud to use these projects to help address that unfortunate history," he said, adding that nearly $3 million in grants will be awarded.
"It's all about improving water quality and improving the quality of the environment around us," Stein said. "With Wake Forest, it's a partnership with A&T and Central and with the nonprofit organization, Yadkin Riverkeeper. They have a wonderful element where there's an existing program called Girls as Citizen Scientists, and they're going to engage these school children to help do the monitoring for them and in the process seed the excitement and creativity of hopefully a future generation of scientists."
The EEG program began in 2000 with an agreement between the Attorney General's Office and Smithfield Foods through which Smithfield provides $2 million annually to the state, which the AG's office distributes among environmental projects. Since its inception, nearly $37 million has been awarded to more than 190 projects.
Di Vittorio, an Academic and Community Engaged (ACE) fellow through Wake Forest's Office of Civic & Community Engagement, said at the press conference that she "feels an immense sense of responsibility to do a good job of implementing the award."
Wake Forest's program, Girls as Citizen Scientists, is led by Young and J. Denise Johnson, an associate professor and Middle Grades Program program coordinator at Winston-Salem State University.
"We take middle school-aged girls to a lake close to our campus to collect water samples, and they come back to our water quality lab and analyze them and look at water quality indicators," Di Vittorio said. "That excitement that it brings to them … they just feel a sense of empowerment that they can go and collect data and analyze it and help inform this ongoing dialogue."
Edgar Miller said the collaborative effort is key because data is needed to enable officials to advocate for cleaner water. "This project will help us get a better handle on the water quality in High Rock Lake, and that's important because we're trying to set a new standard for Chlorophyll a for the lake," he said. "This will provide more data and help us both implement that standard and hopefully ultimately enforce it."
The work with the students is also important, he said.
"We … have been working on youth education projects and trying to get a new generation of volunteers to help us go out and sample water quality, both on the lake and in popular swimming areas around the basin," he said. "I think kids like to get outdoors and find it fascinating to be able to collect data and see the results of their work."
Dean of the College Michele Gillespie is excited about the grant.
"I am so delighted to learn that the North Carolina Attorney General has announced funding of the waterways monitoring project that Wake Forest assistant professors Courtney Di Vittorio and Kyana Young are involved with," she said. "It's terrific to see the way two of our rising star engineers are making such a positive impact on our local environment, and that they're so attuned to the justice issues surrounding it."
The other grants announced by Stein on Wednesday were $133,000 to Renzun Zhao, an assistant professor of environmental engineering at A&T, and $87,000 to Southwest Renewal Foundation of High Point.
To interview Di Vittorio or Young, please contact media@wfu.edu or Laurie D. Willis at willisla@wfu.edu, 336.549.1994.
Categories: Faculty, Research, Student, Top Stories
Wake Forest in the News
Wake Forest regularly appears in media outlets around the world.