Main Content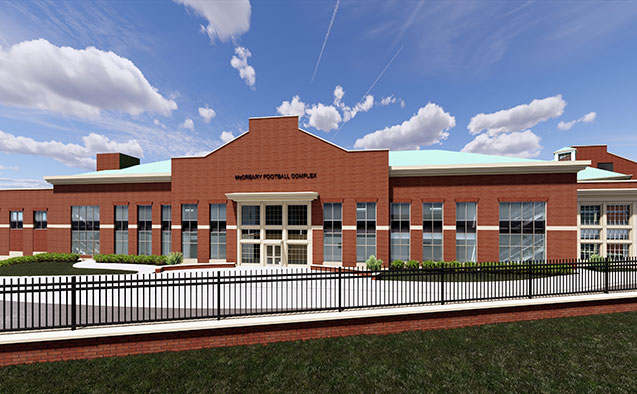 FEATURED NEWS
Wake Forest receives $20 million gift from alumnus Bob McCreary for its football program
By John Hinton | Winston-Salem Journal
Already one of the University's most generous donors and the largest donor in Wake Forest Athletics history, Bob McCreary's new challenge gift of $20 million will be a major step toward the completion of the McCreary Football Complex. With locker rooms, training rooms and common spaces, the new 60,000 square-foot structure will connect to the McCreary Field House and the Sutton Sports Performance Center and foster camaraderie and team chemistry, while firmly establishing Wake Forest's on-campus football facility infrastructure as one of America's best.– 10/31/2021
Story, photos and more on our Wake Forest News website here.
NATIONAL & INTERNATIONAL
Prey tell: How moths elude bats
By Lesley Evans Ogden | Knowable Magazine
Biology professor William Conner and his team visualized bat-tiger moth interactions with high-speed infrared videography They found that bats quickly learned to associate moth-clicking with a bad taste, and thereafter avoid eating them. – 10/26/2021
Ahmaud Arbery's killing in Georgia puts an unusually bright spotlight on prosecutor accountability
By Mark Berman, Hannah Knowles | The Washington Post
"Incumbent prosecutors who run for reelection win their races at a higher rate than state legislators, at a higher rate than mayors, than governors," said law professor Ronald Wright, who has studied the issue. "If an incumbent wants to return to office, normally they can." – 10/29/2021
4 potential pitfalls lie ahead for OSHA's vaccine mandate
By Megan Leonhardt | Fortune
That's one of a host of details that will hopefully be addressed by OSHA's rule, but generally, the agency requires "good faith compliance" by employers, said law professor Sidney Shapiro. – 10/27/2021
How Hollywood thrillers help me through IVF treatment
By Blake Turck | Well+Good
"People going through a hard time in life may be drawn to thrillers to cope," said counseling professor Allison. Forti. "For some highly sensitive or empathic people, watching any stressful media can actually cause psychological distress. The sympathetic nervous system activates, and the body gears up to fight or flee." – 10/27/2021
From the ground up: Highlighting the humble pokeberry plant
By Pam Baxter | The Delaware County Daily Times
Researchers at Wake Forest have discovered that a dye derived from pokeberries doubles the efficiency of fibers used in solar cells to absorb solar energy. – 10/28/2021
REGIONAL & TRADE
UNCW, Coastal Land Trust among EEG grant recipients
Coastal Review Online
Wake Forest will receive $250,000 to develop a low-cost lake water quality monitoring system using drones and satellite data in conjunction with North Carolina Central and North Carolina A&T State Universities. – 10/29/2021
Wake Forest addresses mental health
United Educators
"We are fortunate to have had leadership buy-in from the very beginning, and it's been clear how well-being services, programming, and initiatives impact college student retention and help develop the life skills critical for the future leaders we produce," said James Raper, assistant vice president for health & wellbeing. – 10/26/2021
WFU student creates recovery bra designed for breast cancer patients
By Lillian Johnson | Triad Business Journal
Wake Forest senior Leah Wyrick developed a breast cancer recovery bra when she saw the many complications following her mother's mastectomy and breast reconstructions surgery. Her entrepreneurial spirit kicked in when she took her product idea to the Center for Entrepreneurship's pitch over pizza event and became the only freshman accepted into the startup lab at Wake Forest. With the help of mentors, she has seen Three Strands Recovery Wear take off. – 10/26/2021
What exercise regimen is best for healthy weight loss in seniors?
By Dennis Thompson | MedicineNet
"The thought is if you lose too much lean mass, that this will exacerbate the risk of disability in older adults. Our findings show if your treatment goal is to maximize fat loss and minimize lean mass loss, then resistance training is probably the way to go," said lead researcher health and exercise science professor Kristen Beavers. – 10/31/2021
LOCAL
Former Wake Forest theater professor Harold Tedford dies at 88.
By Wesley Young, Wes Young | Winston-Salem Journal
Professor Harold Tedford taught theater at Wake Forest for more than 30 years and directed over 40 plays. He took hundreds of students to New York and London to immerse them in theater. He also made his students his family, Wake Forest alumni said this past week as they reflected on the passing of a man who played such a big role in their lives. – 10/30/2021
40-Plus Stage Co. to present local playwright's 'Better Days'
Winston-Salem Journal
Theatre professor Sharon Andrews has been part of the preparation of the new script. "I think of 'Better Days' as a romantic drama, a love story. It offers a smart and compassionate look into a relationship between two complicated men navigating issues of love and trust," Andrews said. "The play is also tender and funny, and the playwright is brilliant at writing naturalist dialogue." – 10/30/2021
Kairoff inducted into the Steinway & Sons Teacher Hall of Fame
Winston-Salem Journal
Peter Kairoff has been inducted into the Steinway & Sons Teacher Hall of Fame, a designation recognizing the work of North America's most committed and passionate piano educators. He joined the Wake Forest faculty in 1988 and is currently professor of music and chairman. –10/31/2021
Categories: Top Stories, Wake Forest in the News
Subscribe
Sign up for weekly news highlights.
Subscribe