Main Content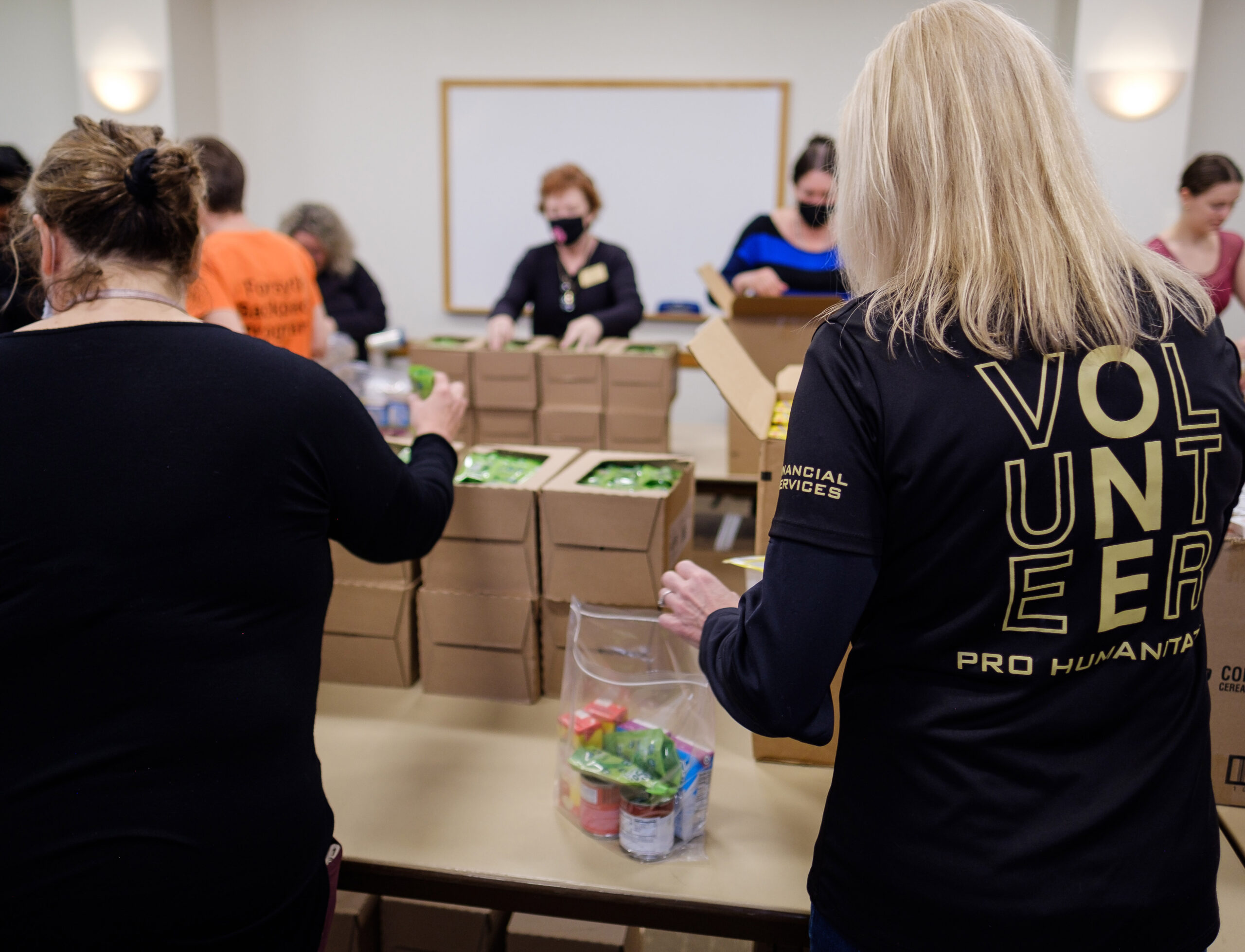 Wake Forest University students, faculty, staff and alumni volunteered at "kit-packing" events on March 23 in a day of service that coincided with the upcoming presidential inauguration and will benefit local schoolchildren and homeless women.
Around 9 a.m in room 410 in Benson University Center, volunteers filled 800 bags with juice, milk, cereal, protein and applesauce, and 115 bags with apples and oranges. The bags will be donated to the Forsyth Backpack Project, which will give them to students at Cook Literacy Model School.
Wake Forest University President Susan R. Wente, who became the institution's leader on July 1 and whose inauguration will be held at 3 p.m. Friday in Wait Chapel, was among the volunteers.
"This effort clearly reflects our Pro Humanitate spirit and demonstrates that we live and breathe it," Wente said while putting juice boxes in zip-close bags. "It's not just about … the 14th president being inaugurated, but that we're committed to the entire community."
Shaquayla Person, a budget analyst on the University's staff, and Wake Forest sophomore Rachel Peterson, a communications major from Scarborough, Maine, also volunteered during Wente's shift.
"I wanted to lend a helping hand and also thought this would be a good way to meet colleagues," said Person, who joined the Wake Forest staff last October.
Added Peterson: "This shows we're not just having an inauguration and a big party, but that we're also involving the community with these efforts … that get at a greater need."
Volunteers also packed STEM kits for Cook students on Wednesday, as well as items including tampons and pads for The Period Project of the Triad, which will donate them to The Downtown Health Plaza.
For more about inauguration week and related events, see the inauguration website.
A Face to Face conversation on radical collaboration between CEO of GE Larry Culp, and Gene Woods, president and CEO of Atrium Health, will be held tonight at 6:30 p.m. and is open to the public.
Trustee Jermyn Davis, a 2010 Wake Forest graduate who co-chairs the Inauguration Steering Committee with alumna and Trustee Jeanne Whitman Bobbitt, said the inauguration symbolizes a new chapter in the life of Wake Forest.
"I've loved being a part of this process as we've tried to model Dr. Wente's philosophy of radical collaboration by bringing together students, faculty, staff, alumni, parents and community members," Davis said. "Activities that have occurred this week, and those yet to come, reflect our commitment to academic excellence, community service and diversity. This is a joyful, auspicious week for the University."
Categories: For Alumni, For Parents, President, Pro Humanitate, Top Stories
Subscribe
Sign up for weekly news highlights.
Subscribe