Main Content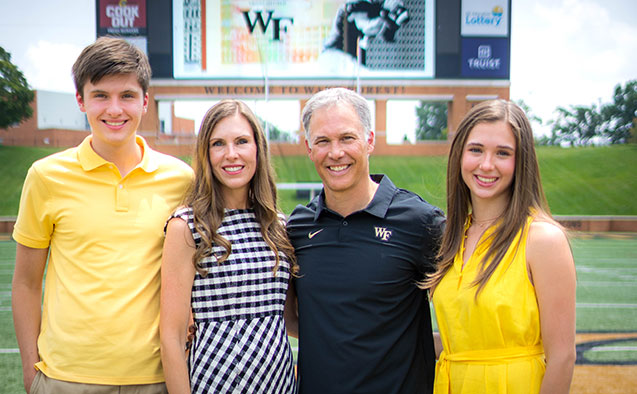 Dave Clawson is recognized for fielding winning football teams. In his eighth season as Wake Forest's head coach, he led the team to 11 wins, the Atlantic Division championship, a Taxslayer Gator Bowl trophy and earned ACC coach of the year honors.
Clawson builds his teams largely by finding players who are willing to work equally hard in the weight room and in the classroom. He offers them the life-changing opportunity to play at a Power Five school that is ranked in the top 30 academically.
Dave and Catherine Clawson will make it possible for even more students to benefit from the transformational opportunity to attend Wake Forest University with a $250,000 gift to create a new scholarship. The donation establishes the Dave and Catherine Clawson Scholarship to benefit any undergraduate student with a preference for those who help Wake Forest achieve and sustain the diversity of the student body, first-generation students, and students from the Piedmont Triad.
The Clawsons made this gift in support of Wake Forest President Susan R. Wente's new scholarship initiative that she announced at her inauguration ceremony on March 25.
"I believe innate talent and capacity to achieve are universally distributed across society. Opportunity is not," Wente said during her inaugural speech. She announced the goal of creating 100 new scholarships by the end of 2022 under a campaign called "For Humanity," the English translation of Wake Forest's motto, Pro Humanitate. "When we create opportunities at Wake Forest and share the transformative power of education, we deliver the mission of Pro Humanitate to the world," she said.
Wente benefited from a scholarship as an undergraduate student at the University of Iowa. "I believe in the power of higher education to transform lives," she said. "And, I know first hand the experience of realizing a dream thanks to financial support from donors. Dave and Catherine have been so generous with their time, their energy and their resources. I am grateful for this gift which will help students from our very own community attend Wake Forest for generations to come."
Dave Clawson said: "I am grateful for Dr. Wente's leadership and her support of the football program. When I asked Dr. Wente about the University's area of greatest need, she identified student financial aid as a top priority. Catherine and I felt compelled to help. This community has become our home, and we're excited to give back to Wake Forest and to be able to support the community that has been so supportive of us."
Wake Forest Athletics Director John Currie said: "This special gift from Dave and Catherine Clawson is another example of how their deep commitment to Wake Forest and the Winston-Salem community stretches well beyond the football program. Their personal philanthropic commitments are significant and reflect their values of character and academic excellence, as well as the importance of access for deserving students."
Categories: Top Stories
Subscribe
Sign up for weekly news highlights.
Subscribe