Main Content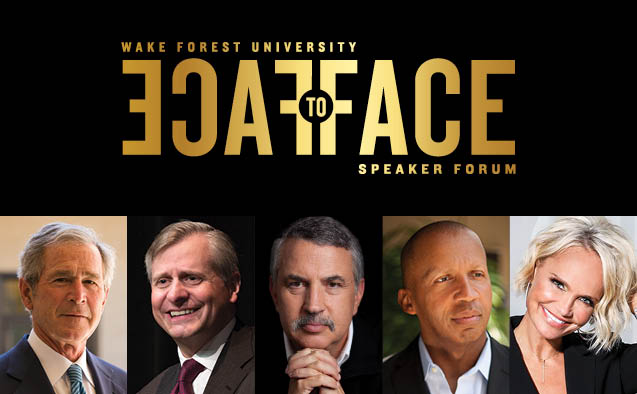 Wake Forest University's community-facing Face to Face Speaker Forum brings world-renowned, influential voices to Winston-Salem to discuss topics in a variety of areas including politics, arts and culture, business and social justice. 
The 2022-23 Face to Face Speaker Forum season will include:
September 14  
George W. Bush, 43rd President of the United States and Presidential historian and Pulitzer Prize-winning author Jon Meacham – The two will share the stage for an exclusive conversation on the challenges facing our nation in the 21st century and the power of freedom.
(Lawrence Joel Veterans Memorial Coliseum)
November 15
Tom Friedman, the bestselling author of The World is Flat and New York Times foreign affairs columnist – In his latest bestseller, Thank You for Being Late: An Optimist's Guide to Thriving in the Age of Accelerations, Friedman offers a blueprint for overcoming the stresses and challenges of a world being transformed by technology, globalization and climate change.
(Wait Chapel, Reynolda Campus)
February 23
Bryan Stevenson, the founder and executive director of the Equal Justice Initiative (EJI), a human rights organization in Montgomery, Alabama – Under his leadership, EJI has won major legal challenges eliminating excessive and unfair sentencing, exonerating innocent death row prisoners, confronting abuse of the incarcerated and the mentally ill, and aiding children prosecuted as adults. He is the author of the critically acclaimed New York Times bestseller, Just Mercy, which was named by Time Magazine as one of the 10 Best Books of Nonfiction for 2014. (Wait Chapel, Reynolda Campus)
April 12
Kristin Chenoweth, Emmy and Tony Award-winning actress and singer who has been nominated for two Emmy Awards and for a People's Choice Award for her role on "Glee" – She starred in the second season of NBC's hit comedy series "Trial & Error," receiving critical acclaim for her performance as Heiress Lavinia Peck-Foster and was seen in the Starz original series "American Gods." Her television roles include appearances in "The West Wing." (Lawrence Joel Veterans Memorial Coliseum) 
Season subscription renewals to the Face to Face Speaker Forum will be available beginning the week of April 18. New season subscriptions will go on sale May 1 on the Face to Face website here.
The Face to Face Speaker Forum and its inaugural speakers were announced in March of 2020. In addition to Malcolm Gladwell, Madeleine Albright, Chuck Hagel and Yo Yo Ma, Face to Face welcomed Peggy Noonan and Eugene Robinson for a virtual conversation; Pulitzer prize-winning writer Isabel Wilkerson, author of "Caste: The Origins of our Discontents;" Dr. Sanjay Gupta, neurosurgeon and multiple Emmy-award-winning chief medical correspondent for CNN; and Larry Culp, CEO of GE and Gene Woods, President and CEO of Atrium Health for a special Face to Face in honor of the Inauguration of President Susan R. Wente. 
When possible, Face to Face offers a special opportunity for a student-led Q&A with the speakers prior to the evening event. Wake Forest students and students from area schools are invited to attend at no charge.
Categories: Top Stories
Subscribe
Sign up for weekly news highlights.
Subscribe