Main Content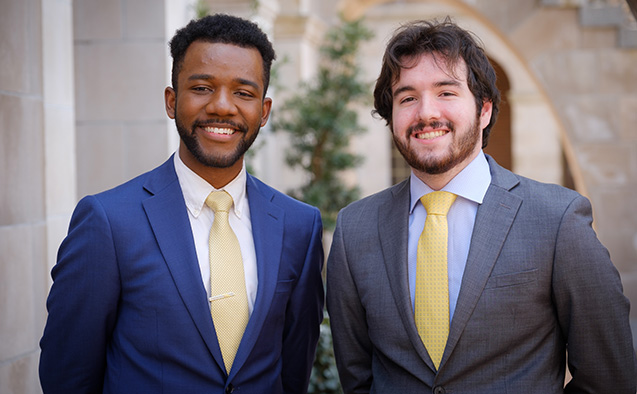 Wake Forest students Landon Bradshaw (left in the photo above) and John Billos (on the right) have been named 2022 Barry M. Goldwater Scholars. The two are among 417 college students from across the U.S. to receive the award for the 2022-23 academic year.  
Award winners are selected based on academic merit from a pool of more than 5,000 sophomores and juniors studying natural sciences, mathematics and engineering from 433 institutions.
This is the first time in history that Wake Forest has had consecutive years of multiple winners. And this year, the two chosen are close friends who supported each other's efforts along the way.
Bradshaw, a junior biochemistry and molecular biology major from Lake City, South Carolina, had been thinking about applying for the Goldwater Scholarship and was inspired to move forward after hearing his friend John, a sophomore computer science major, planned to apply. The nature of their friendship gave the students the ability to push each other.
"John and I had contemplated what it would be like if we both won. However, I knew that this scenario wasn't very likely with such a competitive scholarship. So, I was ecstatic to learn that we were both selected to receive the award," Bradshaw said.
"I can genuinely say that I was just as proud of John as I was of myself." Landon Bradshaw, junior biochemistry and molecular biology major
As a member of biology professor Joshua Currie's lab and a former researcher in Wake Forest's School of Medicine, the Wake Forest Institute of Regenerative Medicine, and the lab at the German Cancer Research Center in Heidelberg, Germany, Bradshaw is energized by the critical thinking and experimentation that creates new knowledge through discovery.
Bradshaw said his mentors, professors, friends and family taught him to always bet on himself. Winning this award affirms that life lesson. "It gives me much hope for the future and signifies that I have what it takes to make a significant contribution to the field of regenerative medicine in the future."
After graduation, Bradshaw plans to attend medical school. He hopes to develop regenerative medicine therapies in the lab and see them used in the clinic firsthand. 
Billos, who is from Mt. Airy, North Carolina, conducts research analyzing large open source datasets and code. This summer, he will be completing a research internship with Lockheed Martin's Advanced Technologies Laboratory. He will spend his fall semester in Budapest, Hungary, in a computer science study abroad program at AIT-Budapest. 
Billos's research in computer science and software engineering requires augmenting and analyzing extremely large open source datasets and code. "There is something amazing about uncovering novel and important information by analyzing datasets. Research is creating questions that follow with academic investigation. It offers an autonomy over your work that other types of work simply do not."
Winning the Goldwater Scholarship early in his undergraduate career is encouraging Billos to continue following his research interests and curiosity. 
"Because of the work Landon and I put into our own applications, into reviewing each other's applications, and our personal relationship, I can think of no other person I would want to win the prestigious award with. Winning this award with Landon has allowed me to reflect with gratitude on how influential he has been on my research path and the success of it. 
Billos is the first Wake Forest University Leadership and Character Scholar to earn a major national scholarship.
"This award has created an amazing shared experience that Landon and I will likely tell our friends, mentors and research colleagues for many years to come." John Billos, sophomore computer science major
About the Goldwater Scholarship
The Goldwater Scholarship is the premier undergraduate award for STEM students; its recipients go on to become some of this country's finest scientists.
Goldwater Scholars have gone on to win an impressive array of prestigious post-graduate fellowships, among which are the NSF Graduate Research Fellowship, Rhodes Scholarship, Marshall Scholarship, Churchill Scholarship, Hertz Fellowship, DOE Computation Science Graduate Fellowship, and the National Defense Science and Engineering Graduate Fellowship.
The on-campus preparation and nomination process for the Goldwater Scholarship and other external scholarships is coordinated through the Wake Forest University Scholars Office and led by STEM Scholarships Faculty Director James Pease. Interested students are invited to visit the website to learn more and arrange an appointment.
Wake Forest in the News
Wake Forest regularly appears in media outlets around the world.