Main Content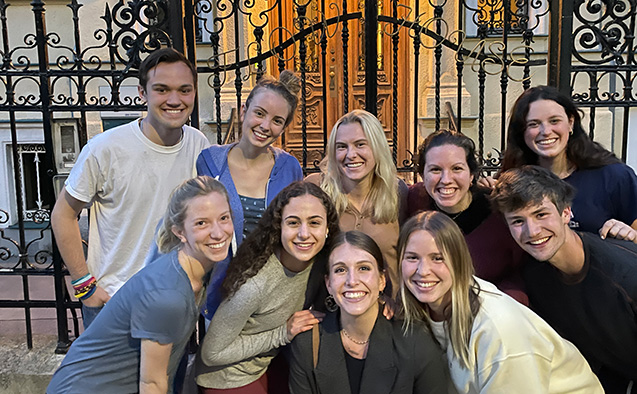 Students studying in Wake Forest's Flow House are volunteering through the nonprofit "Train of Hope" to help refugees from Ukraine.
The activity is part of psychology professor Will Fleeson's class on personality, change and immigration. Fleeson is the faculty director at the University's study abroad house in Vienna, Austria, during the spring semester.
"When the Ukraine refugee crisis started, and so much of it was happening in Vienna, the students became enthusiastic about trying to help," Fleeson said.
"Our group is studying abroad at a monumental time in history. We are seeing how the Russia-Ukraine conflict is directly affecting people," said junior Madeline Tallarico.
At the volunteer site, students help with the "store" – an area of donated materials where those in need can pick up bath and shower supplies, hygiene products, toothbrushes and toothpaste and other necessities. They also make and serve meals from the kitchen area. Most of the refugees arrive from the train station without having eaten during their travels. 
"We share pizza and sandwiches and serve coffee and tea," said senior Hanna Duncan. "It is inspiring to see how dedicated the volunteers are and how grateful everyone is to help."
Peggy Rianhard, who graduated from Wake Forest in 2021, is the international program assistant supporting Wake Forest students at Flow House. "The Viennese treat the refugees as they themselves would want to be treated," she said. "Those seeking protection from the war are being supported in a way that speaks volumes about the Viennese approach to caring for those in need."
"In class, we have talked about courage and its many forms. Volunteering made me realize that life can change in an instant, and great courage might be demanded of me without warning." Sophomore Leanna Bernish
Helping during the crisis has added a new dimension to the students' experiences as they see first-hand the hardships due to the war. 
Junior Zach Bokhari said students have been learning how refugees struggle with making the transition between cultures, leaving their homes and families, and maintaining the courage to move forward. "Many told us that they feel uncomfortable speaking Russian and showing any connection to that culture, which aligns with our class discussions about the anger and discomfort that refugees often feel."
Students are volunteering as they are wrapping up the semester's work and preparing for finals. "Even in the middle of completing their classwork and preparing for exams, they are making time to help those in need," said Günter Haika, the resident director at Flow House. "I find this absolutely amazing."
Categories: International, Top Stories
Subscribe
Sign up for weekly news highlights.
Subscribe