Main Content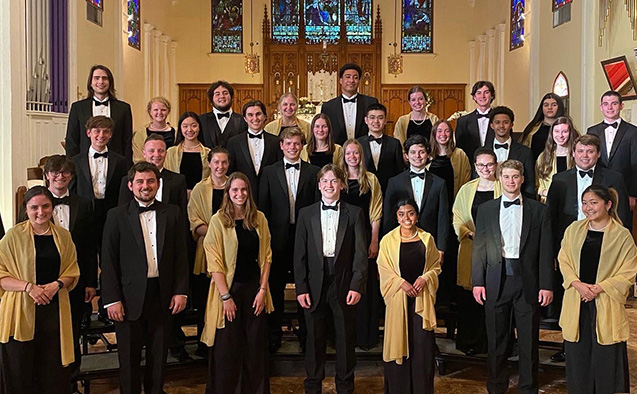 Wake Forest alumni Frank and Kathy Bragg, former choir students in the late 1950s and early 60s, have given $1 million to endow a fund that will allow students participating in the University's Chamber Choir to take their performances on the road without concern for cost.
The Thane McDonald Wake Forest Choir Tour Fund will cover the cost of travel and lodging for 32 to 40 Chamber Choir members for a tour in the U.S. each year and an international trip every four years.
The gift funded the 2022 inaugural tour of the chamber choir with performances in South Carolina, Georgia and Florida this spring.
Research suggests that when a choir travels together the personal and artistic connections created among the members increase self-confidence, well-being and interpersonal skills. Studies show that group singing elevates mood, increases social bonding and regulates stress – suggesting that the mood-boosting effect of singing is likely due to its social aspects.
"Once students experience traveling together to make art and music, a choir becomes something much deeper and more like family. " Director of Choral Activities and Assistant Professor of Music Chris Gilliam
During the pandemic, practicing in-person as a group and traveling to perform were on hold. Junior communication major Elsa Maurizi joined the choir her first year at Wake Forest and participated in the May Southeastern tour.
"We were all familiar with one another as singers, but not really as friends until we went on tour. We bonded through the music, through the jokes and bus rides and conversations and just all the different personalities being put together for a week," Maurizi said. "Going on tour was a big step for us, and I now feel very connected to the music and the people and the beauty of what we are trying to accomplish as a group." 
Singing lessons
Students accepted to the Chamber Choir enroll in a semester-long, one-credit course that meets four days a week. From the moment they step foot in the class, they are listening, creating synergy, and engaging with new ideas and perspectives. If these sound like skills necessary for classrooms and careers, that is because they are.
"A big thing we learn in our communication classes is how to understand the ways people express themselves. We learn to listen," said Maurizi. "In choir, we have to listen closely to the voices around us in order to blend and lean into dissonance and harmony. The choir is very group-oriented, but each minor detail is created by individuals,"
Director of Choral Activities and Assistant Professor of Music Chris Gilliam describes choir as engaging with words and language, poetry, and concepts and ideas that must be processed by the brain and expressed in music. "It is a whole body experience where singers step outside their comfort zones."
Kgosi (pronounced Kho-see) Hughes began singing at the age of 10 when he joined the Drakensberg Boys' Choir School in South Africa. As a biochemistry and molecular biology major and music minor, he plans to pursue a career in medicine after graduation in 2023. Like Maurizi,  he joined the Chamber Choir during his first year at Wake Forest.
"Music has undoubtedly shaped who I am as a person and offers a break away from the intense academic workload that comes with being a pre-med student," said Hughes. "I have been able to learn many new techniques and life perspectives from other students. Singing with the choir has also helped me confront criticism by learning how to process constructive feedback." 
Gilliam describes the choir singer's work as more than reading the note and singing it in key.
"In studying the music and its place in time, students learn empathy and sensitivity to other cultures, and how to work together. They learn how to communicate transparently, honestly and without pretext – skills that will serve them a lifetime." 
The Thane McDonald Choir Tour Fund
Thane McDonald Wake Forest Choir Tour Fund – The gift from Frank and Kathy Bragg initiates the Thane McDonald choir tour fund. The fund grows as alumni and friends come together to make it possible for choir singers to travel together without concern for cost. More information on how to support the endowment is available here.
Categories: Top Stories
Wake Forest in the News
Wake Forest regularly appears in media outlets around the world.