Main Content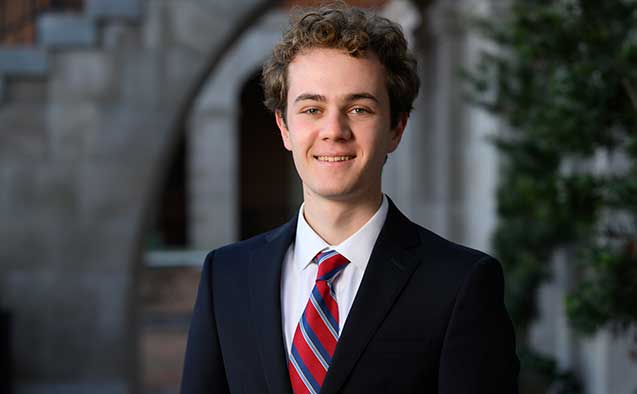 Wake Forest senior Tal Feldman has been named to the 2023-24 class of Schwarzman Scholars. Scholars selected from around the world will complete a one-year, fully-funded Master's degree program in Global Affairs at Schwarzman College on the campus of Tsinghua University in Beijing, China. The program aspires to build a global network of young leaders that are prepared to confront the pressing challenges facing the world.
A Stamps Scholar who is double majoring in economics and mathematics, Feldman is among 151 candidates selected this year from 36 countries and 121 universities worldwide. He is planning a career in economic and technology policy where knowledge of China will be essential.
"With my desire to work in the U.S. government, China will unquestionably be a major part of my career portfolio – from national security, economic and political perspectives. Winning the Schwarzman Scholarship provides me with a unique opportunity to critically study China, its government and its policies." Tal Feldman
As a first-year student, Feldman was treasurer of Hillel before becoming president the following year. During his sophomore year, he co-founded the Collegiate Association for Inequality Research, which encouraged student-led research groups and culminated in a virtual conference that drew more than 120 presenters from 48 universities. 
He shared his extensive knowledge of computer science and artificial intelligence (AI) tools during internships with multiple U.S. Government agencies, including the Department of State, the Federal Reserve and the Department of Defense. He was named a Truman Scholar while completing a full academic year of study at the London School of Economics as a junior, where he also gave presentations at the local U.S. Embassy on AI technology. 
In addition to winning the Schwarzman Scholarship and Truman Scholarship, Feldman was also a finalist for the Rhodes, Marshall and Rotary Scholarships. 
He credits the University's Scholars Program with supporting his success. The program's mission is to identify and promote high academic and civic achievement among undergraduates – encouraging excellence that can lead to opportunities beyond Wake Forest.
Feldman said Director of the Wake Forest Scholars Program Jackie Sheridan has been an inspirational mentor. "She guided me at every step of the journey. Through hours of discussions and brainstorming, she helped me narrow down my public service aspirations and encouraged me to pursue a variety of opportunities. I am very thankful for Ms. Sheridan, without whose guidance, I would not have earned the opportunities the Schwarzman Scholarship offers."
"Tal combines a fierce intellect with a steadfast desire to do good for others. His achievement is the result of taking advantage of every opportunity that presented itself – and creating some of his own – along with many years of hard work. He will continue to develop as a citizen of the world and a future leader during his time as a Schwarzman Scholar." Jackie Sheridan, director of the Wake Forest Scholars Program
Feldman also named politics and international affairs professors Sara Dahill-Brown and Katy Harriger and music professor Peter Kairoff as mentors. 
"Professor Dahill-Brown helped me understand more about economic inequality and our political system and professor Harriger's courses on constitutional law provided deep insights into our judicial system and the possible scope of policymaking. Piano lessons with Dr. Kairoff helped me stay in touch with my creative side, with our music-making constantly inspiring me in my other efforts."
Schwarzman Scholars are selected through a rigorous application process designed to identify leadership potential, intellect and strength of character. Once admitted, the Scholars pursue a one-year Master's degree in Global Affairs with a core curriculum focused on three pillars: Leadership, Global Affairs and China. 
The students are taught by leading faculty from Tsinghua and a number of other internationally recognized universities and have the opportunity to attend guest lectures by prominent global thought leaders. Beyond the classroom, Scholars gain exceptional exposure to China through internships, mentors and high-profile speakers.
The program's unique combination of coursework, cultural immersion, and personal and professional development opportunities equip students with a well-rounded understanding of China's changing role in the world.
Categories: Scholars, Top Stories