Main Content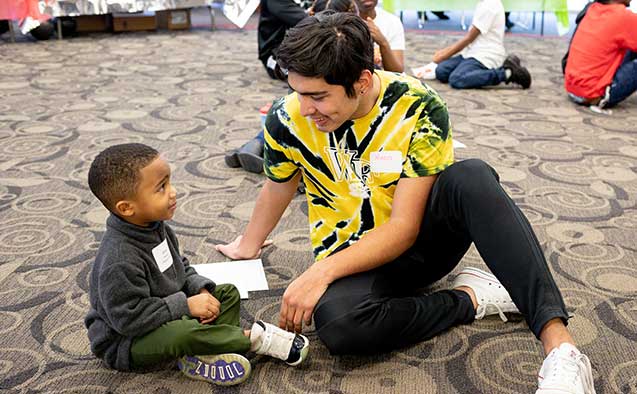 Wake Forest University is partnering with Winston-Salem State University, the University of North Carolina School of the Arts and HandsOn NWNC to host an event that honors the life and legacy of Martin Luther King Jr.
The Read-In Day on Jan. 21 celebrates Dr. King's achievements and teachings while promoting the importance of reading. The annual event brings children to campus for a day of fun-filled activities that focuses on remembering the civil rights icon and his message about literacy, equality, and the importance of community service. 
The program is open to children in grades K-5 who attend Winston-Salem/Forsyth County Schools. They will be paired with a reading buddy volunteer from Wake Forest, WSSU or UNCSA.
"Kids will visit various activity stations," said Maura Bodziock, the Education Equity VISTA at Wake Forest who is coordinating the program. "We will have one called global view, where kids will learn about historical civil rights leaders from around the world. There's even a musical petting zoo where kids can try out musical instruments and student leaders will be there to show them how to play them."
Students will also learn about how sustainability plays an important role in Martin Luther King Jr.'s message. They will help write a poem during the event that will be read during the closing ceremony.
At the end of the program, each child will receive two free books to take home.
"We hope that it's not just that kids come to the event and it's over," said Bodziock. "We really want to instill that spark – a love of reading, so they take it with them and learn more about civil rights and ways that they can help in our community. It's supposed to be a starting point for broader change," she said.
This year's Read-In will be held at Wake Forest University in Benson Center (Room 401) on Saturday, Jan. 21 from 8 a.m. – Noon.
This marks the 14th year for the annual MLK literacy celebration. Registration is required. Parents can find more information  here.
Members of the Media are invited to attend. Wake Forest University, WSSU and UNCSA students/staff will be available for interviews during the event. Contact Keri Brown, 336-758-4442 or C: 336-971-5402 or media@wfu.edu.
Categories: Top Stories
Wake Forest in the News
Wake Forest regularly appears in media outlets around the world.