Main Content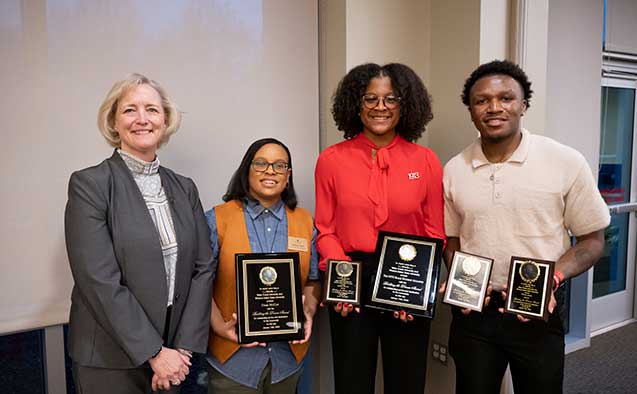 For more than two decades, Wake Forest University and Winston-Salem State University have collaborated to host events honoring Dr. Martin Luther King Jr. 
One of those is the annual 'Building the Dream' awards. Both universities present the honor to professors, administrators or students who exemplify King's qualities and promote diversity within their communities.
Six individuals were recognized this week during a joint MLK celebration luncheon. The winners are listed below.
Wake Forest University award winners: (Pictured left to right above) Wake Forest University President Susan R. Wente, Demi McCoy, Janeel Black, Gah'ques Ligons. Photo Courtesy of WSSU. 
Demi McCoy, creative program manager with the Wake Forest School of Divinity. 
Rev. McCoy has worked at the intersection of theological education and community engagement at Wake Forest University since 2014. As an artist, McCoy has recorded and published numerous musical works. McCoy has established herself as a voice for marginalized individuals and in particular, Black LGBTQ women and gender non-conforming persons. She was also honored for her leadership in supporting various grassroots organizations that serve youth in Forsyth and Guilford County communities and for her work on campus. 
"Demi is a creative, passionate and engaged leader on and off campus for the work of justice and equity," said Rayce Lamb, director of admissions and enrollment management at Wake Forest University School of Divinity. "As its Creative Program Manager, Demi has led WFU's Compass Initiative Faith Coordinating Center's efforts to partner with faith communities to de-stigmatize and better support persons with HIV/AIDS."
Gah'ques Ligons: Sophomore, Pre-med track, Winston-Salem, N.C.
Ligons is a frequent volunteer in the local community. This includes a program called A Bed and A Book, which provides a child with a handmade bed and upon delivery of their bed, the child is read a story of their choosing. He is involved in many different organizations on campus including the executive board of NPHC and treasurer of the Black Student Alliance.
"Both of these organizations are community service driven and Gah'ques is involved in leading and participating in as many ways as he can," said Elqanah Awkward, a Wake Forest student who nominated his fellow classmate. "These qualities strongly resemble the qualities of Dr. King. Gah'ques wants to always be involved as much as he can to make the campus and the Winston-Salem/Forsyth community better."
Janeel Black: Junior, Health and Exercise Science, Frederick, Md.
Black is the President of the Black Student Alliance. She also serves as the Corresponding Secretary on the executive board for Wake's Pi Omicron Chapter of Delta Sigma Theta Sorority, Inc.
"Janeel has been influential in the Black Student Alliance's ability to unite and support Black students at Wake through a range of events, many in collaboration with various campus organizations like the Organization of Latin American Students, Campus Kitchen, the WFU Black Law Student Association and more," said student Naiyah Bryant. "Recently, Janeel has taken on the initiative to foster BSA's relationship with athletics at the University in hopes of creating a more welcoming space for Black athletes inside of the organization."
Nick Aime: Junior, Politics and International Affairs, Fayetteville, N.C.
Aime serves as the Community Service Chair for the Wake Forest Black Student Alliance. He was honored for his commitment and community outreach.
"Earlier in the semester, Nick hosted a letter writing event in which students were able to come and write a letter to our incarcerated brothers and sisters within the Winston-Salem justice system," said Janeel Black. "This event was such a success that he has decided to make it a yearly program to continue his impact on the community. In addition to this, Nick strives to put BSA on the forefront of all community service events within the Wake Forest community."
Winston-Salem State University 'Building the Dream' Award Winners
Student – Treshone Weeks
Faculty – John Williams
For more information about the honorees from WSSU contact Haley Gingles gingleshn@wssu.edu.
About the Awards:
Faculty, staff and students at Wake Forest and Winston-Salem State University submit "Building the Dream" award nominations for their respective universities and a committee of representatives from each school selects winners. The recipients were recognized at an annual banquet celebrating Dr. Martin Luther King Jr. held at Winston-Salem State University on Jan. 16.
About Wake Forest University:
Wake Forest University combines the best traditions of a small liberal arts college with the resources of a large research university. Founded in 1834, the school is located in Winston-Salem, N.C. The University's graduate school of arts and sciences, divinity school, and nationally ranked schools of law, medicine and business enrich our intellectual environment. Learn more about Wake Forest University at www.wfu.edu. 
Categories: Top Stories
Wake Forest in the News
Wake Forest regularly appears in media outlets around the world.