Main Content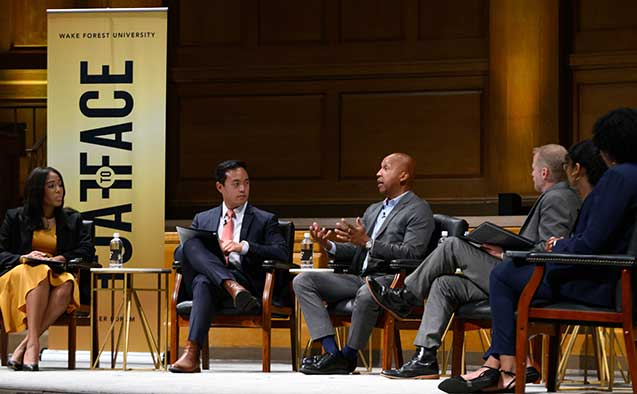 What does it take to be engaged in meaningful change toward justice and equity? 
"We have to get proximate to people in need, wrap our arms around them, and affirm their humanity and dignity," social activist, lawyer and author Bryan Stevenson told more than 1,000 listeners from Wake Forest and the surrounding community who gathered in Wait Chapel on Feb. 23. 
In a Face to Face Speaker Forum student-led event, Wake Forest law, medical, business and divinity students asked Stevenson questions – including what inspired him to take on social justice work representing people facing execution in America's prisons. 
Kenneth Townsend, Director of Leadership & Character in the Professional Schools, moderated the conversation with Stevenson, who is the bestselling author of the book, "Just Mercy."
Stevenson described how his relationship to the law changed when he visited an inmate on death row to tell him that he would not be executed for at least another year. "He thanked me for letting him know, and I took his hands." The two talked for three hours.
"Clarity is hard to come to on your own. You need to get proximate to the people you want to serve to get clarity." Bryan Stevenson
The founder of the Equal Justice Initiative (EJI) in Montgomery Alabama, Stevenson described being inspired by the "grace, humility and humanity" of the people he represents. EJI is committed to ending mass incarceration and excessive punishment in the U.S., challenging racial and economic injustice, and protecting basic human rights for the most vulnerable people in American society. 
Law student Dareus Chen asked Stevenson about the role of the prosecutor in helping reduce the number of people incarcerated. "Prosecutors have been shaped by the false idea that we can put crimes in jail or prison," he responded. "People go in jails or prisons, but not crimes. Those prosecutors who know that people are not crimes can transform our systems."
Business school student Mikalia Jackson turned the conversation toward radical collaboration for justice and equity in business. "If your business's culture is organized around profit, it is not an easy thing to lose profit to advance equity." Integrating businesses into the communities where they operate is important, including caring about public education and supporting educational opportunities to teach young people the skills needed to enter the workforce.
Addressing a question on the role of healthcare by medical school student Meron Fessehaye, Stevenson said, "We haven't invested what we need to care for people in jails. Addiction and dependency is a health problem not a criminal problem. The healthcare industry also needs to address the fact that we made healthcare places unsafe for families of color." 
Stevenson talked about the importance of reckoning with our country's history. "In our personal relationships, we can't just deny when our partner is upset. We must rebuild after we've done something wrong." Though slavery was abolished, criminal justice, civil rights, healthcare and employment inequities continue.
When asked a question by law and divinity student Jada Williams about faith and justice, Stevenson talked about the integration of efforts needed.
"It will take pastoral, healthcare, legal and business professionals working together to respond to the crisis of over-incarceration in our country. We are afraid if we confront and talk about different things that have happened in our country something bad will happen. People of faith have an opportunity to lead us to embrace discomfort so we can be something better."
The event was hosted by Wake Forest School of Medicine, School of Business, School of Law, School of Divinity, and the Program for Leadership & Character. Students from local universities as well as high school and middle school students attended the event. Representatives from area nonprofits, businesses and government agencies were also in the audience.
The Face to Face Speaker Forum invites speakers from four categories: political affairs, social justice global issues, arts and culture and innovation and business. 
The student-led Q&A took place prior to the 7:30 p.m. keynote Face to Face Speaker Forum event featuring a conversation with Stevenson and Vice President for Campus Life Shea Kidd Brown.
Categories: Events, Top Stories