Main Content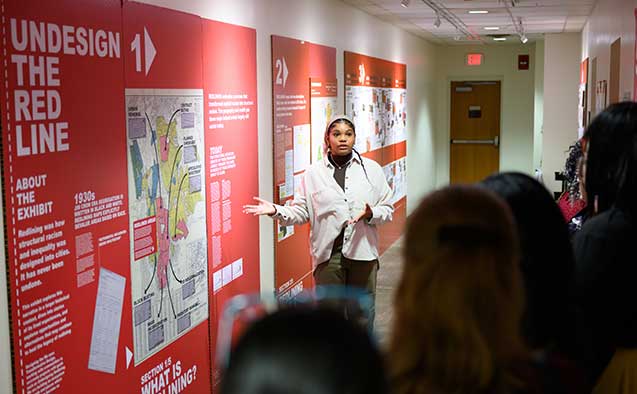 Wake Forest University is hosting a national exhibit that takes a deep look at how government policies and social issues shaped the physical layout of some communities across the country, including Winston-Salem.
"Undesign the Redline" explores the history of racism and inequality. The traveling exhibit focuses on federal "redlining" maps drawn in the 1930s and how these practices impacted economic development and housing segregation in predominantly minority neighborhoods.
The Office of Civic and Community Engagement at Wake Forest collaborated with designing the We to bring this interactive experience to campus. It was on display at the Forsyth County Public Library last year, and this showing is getting some help from Wake Forest students. They are serving as tour guides for the exhibit, which is located on the second floor of Benson Center.
"The legacy of redlining can still be seen today." Nia Thompson, a junior sociology major at Wake Forest and tour guide.
On a weekday afternoon, Thompson greeted a University staff group. 
In the middle of the exhibit, she highlighted a map that shows where some neighborhoods were redlined in Winston-Salem.
The Boston native says she volunteered for the experience to find out more about local history.
"As a student, I'm really passionate about history and this exhibit has really allowed me to learn more about redlining in a local context and it's important for me to share and educate others, so they can get a better understanding of the broader Winston-Salem community beyond campus."
Nearly 60 feet of panels cover the walls in the Benson Center. The display contains photos, articles and stories from residents in these impacted communities.
At the end of the tour, participants are encouraged to share their thoughts. That information will be used to inspire reactionary artwork created by Wake Forest students.
"We have several student groups, including Artivist, that will be taking the feedback from this exhibit to continue the conversation through artwork," said Deb Marke, assistant director for advocacy and social justice education at Wake Forest University. "Their art will really be a summation of the thoughts that our community has on redlining, race and what we can do to undesign the redline."
Marke says the student artwork will be placed at various locations on campus.
"Undesign The Redline" is on display at Wake Forest University through March 6th.
The exhibit is open to the public for self-guided tours during the following times.
Benson Center Hours:
Monday: (Noon – 10 p.m.); Tuesday: (9 a.m – 10 p.m.); Wednesday:  (9 a.m. – 10 p.m.); Thursday: (9 a.m. – 10 p.m.); Friday: (9 a.m. – 10 p.m.)
Media Contact: Keri Brown, 336-758-4442 or media@wfu.edu
Categories: Top Stories
Wake Forest in the News
Wake Forest regularly appears in media outlets around the world.