Main Content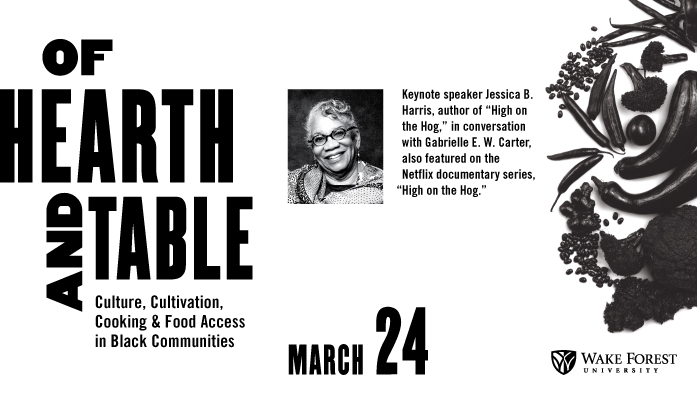 Wake Forest University's Center for Research, Engagement and Collaboration in African American Life (RECAAL) will present the symposium, "Of Hearth & Table: Culture, Cultivation & Food Access in Black Communities," on Friday, March 24, from 8:30 a.m. to 4:45 p.m. in Farrell Hall (Broyhill Auditorium).
To conclude the symposium, Jessica B. Harris, American culinary historian, college professor and author of the New York Times Bestseller "High on the Hog: A Culinary Journey from Africa to America," will participate in a keynote discussion with culinary artist Gabrielle Etienne. The event will be held in Porter Byrum Welcome Center at 6 p.m.
Harris, a James Beard Foundation award winner, is considered one of the ranking authorities on the food of the African Diaspora. She is the author, editor or translator of 18 books, including 12 cookbooks.
Etienne uses rural and Black diasporic culture to tell elaborate stories around the table and can be seen on the Netflix documentary series "High on the Hog."
The symposium will feature a series of panels that will facilitate much-needed dialogue about the various ways food connects with Black communities, highlighting the complexity, languages, struggles and ingenious creativity found in African American culinary traditions. Winston-Salem chef Stephanie Tyson and Durham chef Ricky Moore, who have both been recognized by the James Beard Foundation, will also speak during the event. A list of all panel discussions, topics and times can be found on the Of Hearth and Table website. 
The symposium and keynote discussion are both free and open to the public. Media are welcome.
Culinary expression can be found in the kitchen, at the dinner table or out in the streets. Black communities face issues of stereotyping, food shaming and lack of access, which challenges communities seeking to thrive.
"Food discloses much about the nature, meaning and collective identity of a community. From printed recipes to coded language about how to 'really' prepare grandpa's gumbo or one's aunt's sweet potato pie, communal food culture is the thing of fables," said School of Divinity Associate Professor of Religion and Culture Derek S. Hicks. "The Of Hearth and Table symposium will assemble scholars, chefs, farmers and activists for lively discussions on the various expressions, struggles and creativity in African American culinary life. The close of the evening will be a riveting keynote discussion that will certainly highlight the complex beauty and jazzlike creativity of Black culinary expression."
About RECAAL
The Center for Research, Engagement and Collaboration in African American Life (RECAAL) was launched in fall 2020, rooting its work in the experiences of Black people in the United States. RECALL's efforts are conceptually framed around two unrelated terms: to recall and to recalibrate. To "recall" is to bring a fact or event back into one's mind so as to recount it to others. But recalling also entails a resetting of order by bringing someone out of a state of inattention into a present state of things. This last definition offers the most useful cord connecting the two concepts. To "recalibrate" is to calibrate a machine for a different or expanded function. The Center for RECAAL understands recalibration as a means of resetting order through active strategic engagement with an array of social and cultural realities to expand opportunities for black self-actualization and expression.
Categories: Top Stories
Wake Forest in the News
Wake Forest regularly appears in media outlets around the world.