Main Content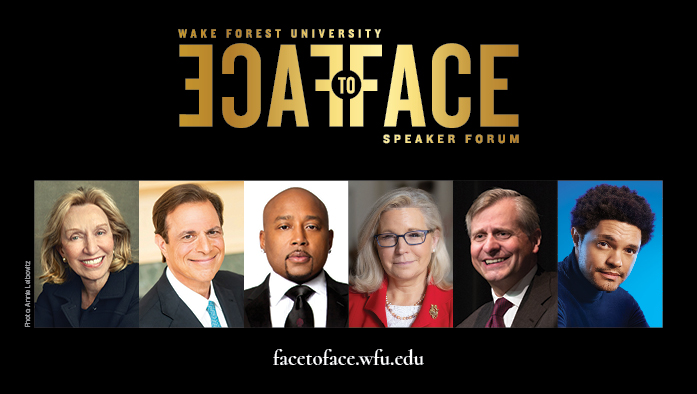 Wake Forest University's community-facing Face to Face Speaker Forum brings world-renowned, influential voices to Winston-Salem to discuss topics in a variety of areas including politics, arts and culture, business and social justice. 
The 2023-24 Face to Face Speaker Forum season will feature:
Doris Kearns Goodwin and Micahel Beschloss – Presidential historian, political commentator, and Pulitzer Prize-winning and New York Times best-selling author Doris Kearns Goodwin meets Presidential historian, NBC News and PBS NewsHour, New York Times columnist and best-selling author Micahel Beschloss for a conversation.
(September 27, 2023, Wait Chapel)

Daymond John, CEO and Founder of American hip-hop apparel company FUBU, is a pioneer in the fashion industry with over $6 billion in product sales worldwide. He is best known for his commentary on ABC TV's critically acclaimed business reality show Shark Tank, where he demonstrates his marketing prowess and business insights.
(November 1, 2023, Wait Chapel)
Liz Cheney and Jon Meacham – Former U.S. representative Liz Cheney, attorney, politician and author, served as the U.S. representative for Wyoming's at-large congressional district from 2017 to 2023. She is co-author, along with her father Dick Cheney of, "Exceptional: Why the World Needs a Powerful America." Jon Meacham, American writer, reviewer, historian and presidential biographer will join Cheney.
(February 22, 2024, Wait Chapel)
Trevor Noah, a South African comedian, writer, producer, political commentator, actor and the former host of The Daily Show. Noah is the author of the New York Times bestseller "Born a Crime: Stories from a South African Childhood" and founder of the Trevor Noah Foundation to improve equitable access to quality education for underserved youth in South Africa.
(April 17, 2024, Lawrence Joel Veterans Memorial Coliseum) 
Season subscriptions to the Face to Face Speaker Forum will be available on April 13 on the Face to Face website.
Since its launch in 2020, The Face to Face Speaker Forum has hosted former U.S. president George W. Bush, economist Tom Friedman, singer and actor Kristin Chenoweth, author Malcolm Gladwell, former Secretary of State Madeleine Albright, cellist Yo-Yo Ma, and CNN medical correspondent Sanjay Gupta among others. A complete list of past Face to Face events can be found here. 
When possible, Face to Face offers a special opportunity for a student-led Q&A with the speakers prior to the evening event. Wake Forest students and students from area schools are invited to attend at no charge.
Categories: Top Stories
Wake Forest in the News
Wake Forest regularly appears in media outlets around the world.