Main Content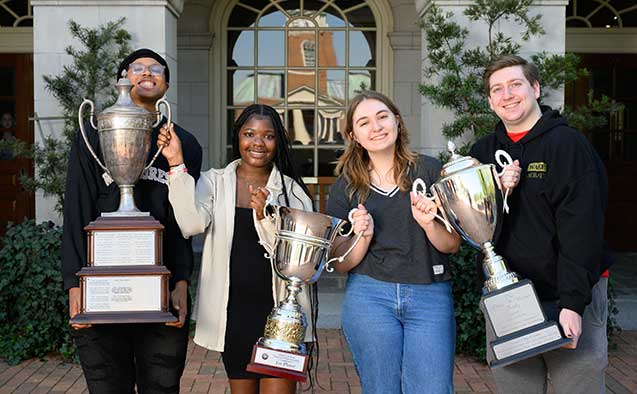 Wake Forest University has clinched another national debate championship. 
This comes on the heels of winning the prestigious National Debate Tournament last week.
On Tuesday, April 11, WFU's top two teams (juniors Iyana Trotman and Tajaih Robinson along with seniors Ana Bittner and Ari Davidson) closed out the final round of the Cross Examination Debate Association national tournament. They were the last two teams standing, winning both 1st and 2nd place. Both teams were undefeated throughout the championship, which was held in Texas at the University of Houston.
The win marks a historic achievement for the Wake Forest Debate team. In 2023, they won all three major national policy debate tournaments. This includes taking home the top trophy for their win at the American Debate Association competition in early March. 
"The reason that this is so historic is that it means Wake Forest is the first institution in the history of intercollegiate debate to win the 'Triple Crown' representing all three college national championships," said communication professor Jarrod Atchison, the John Kevin Medica Director of Debate.
Today, the Wake Forest community joined the Wake Debate team for a historic celebration on Hearn Plaza. 
A lot of determination and stamina are required to win championship competitions against the best intercollegiate debaters in the country.
Atchison credits the University's debate team success to three main attributes. The first one is the support benefactors Megan and John Medica that provided extra resources for traveling, coaching preparation, and other expenses. Another boost is having a large number of experienced senior debaters on the team. And he said, a little luck also played a role.
"We have a cluster of seniors, and that made a huge difference. Experience matters so much when it comes to not only dealing with the new arguments that you hadn't anticipated, but also the ability to feel what it's going to be like to commit yourself to something so difficult to achieve and make the sacrifices to do it," said Atchison.
Wake Forest University's debate tradition began in 1835, one year after the college was founded.
Today, Wake Debate is made up of nearly 30 debaters and more than a dozen different teams.
Media Note: For interviews with students on the Wake Forest debate team or the director of the University's debate program, contact Keri Brown, media@wfu.edu, 336-758-4442 or C: 336-971-5402. 
Photo Credits: Wake Forest University/Lyndsie Schlink. (Pictures from the Wake Forest debate team's "Triple Crown" celebration held on the Quad on campus on April 13, 2023.  Students "rolling the quad" on Hearn Plaza.)
Categories: Top Stories
Wake Forest in the News
Wake Forest regularly appears in media outlets around the world.