Main Content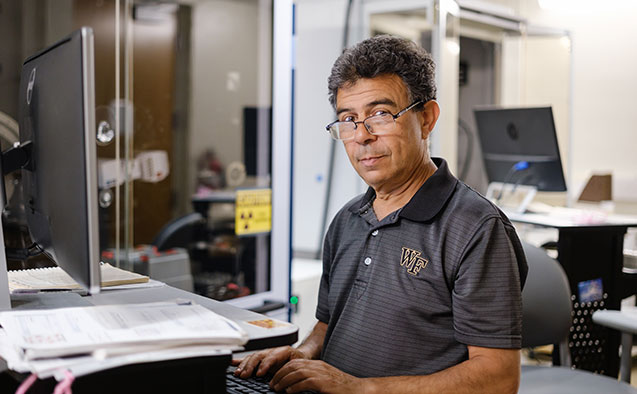 Abdou Lachgar, professor of chemistry, has been selected as a 2023-2024 Fulbright U.S. Scholar for Namibia.
Lachgar will conduct research and teach in the materials science department at the University of Namibia.
"I plan to establish collaborations in the development of materials and technologies for two critical applications: sustainable production of hydrogen using solar energy, and conversion of biowaste to biofuel," he said. "The proposed research projects will contribute to reducing reliance on fossil fuels."
Namibia is one of a handful of countries that has included sustainability and environmental protection and justice as part of their constitution. For the past 23 years, Lachgar's teaching and research has been anchored in the development of materials and technologies for sustainability, and he will share that expertise.
Fulbright Scholar Awards are prestigious and competitive fellowships that provide unique opportunities for scholars to teach and conduct research abroad. Fulbright scholars also play a critical role in U.S. public diplomacy, establishing long-term relationships between people and nations. Alumni include 62 Nobel Laureates, 89 Pulitzer Prize winners, 78 MacArthur Fellows, and thousands of leaders and world-renowned experts in academia and many other fields across the private, public and non-profit sectors.
Lachgar's work will support the goals of the Fulbright program in Namibia: enhance collaborative research, strengthen graduate education through teaching and establish sustained United States and Namibia ties.
He was granted his first Fulbright U.S. Fellowship in 2019 at the University of the State of São Paulo in Brazil. He focused on advancing curricular and scholarship activities related to materials for renewable energy. As a result of this collaboration, he contributed to the publication of four academic papers and hosted a Ph.D. student whose work was recently published in the Journal of Materials Chemistry.
"It is all about walking the walk of our 'Pro Humanitate' motto and contributing to the global presence and impact of our institution," Lachgar said.
Categories: Top Stories
Wake Forest in the News
Wake Forest regularly appears in media outlets around the world.