Main Content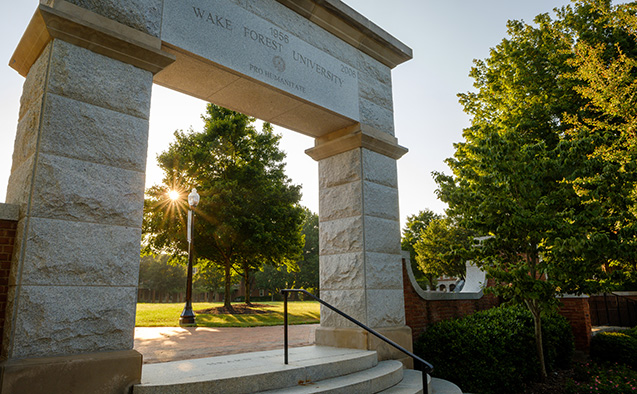 Wake Forest seniors Ashley Peake and Malindi Whyte and chemistry doctoral candidate Scott Dawson have been awarded Graduate Research Fellowships from the National Science Foundation.
The National Science Foundation Graduate Research Fellowship supports outstanding graduate students in STEM by providing three years of financial support to those pursuing research-based degrees. The NSF has a history of selecting recipients who achieve high levels of success in their future academic and professional careers. Past fellows include numerous Nobel Prize winners, former U.S. Secretary of Energy Steven Chu and Google founder, Sergey Brin.
Using math to measure opinions and polarization
Both Peake and Whyte are interested in exploring aspects of people's opinions and what systems may be polarizing.
Peake, who is from Winston-Salem, North Carolina, plans to use her expertise in applied mathematics to tackle social problems. She will be pursuing a Ph.D. in the Social Engineering Systems and Statistics program at the Massachusetts Institute of Technology.
"My research focuses on using mathematical modeling to understand how people's opinions change in response to online content and how such changes can lead to polarization and the formation of online echo chambers."
She started conducting research in high school at Wake Forest's Institute for Regenerative Medicine. 
"It was there that I found a love for the process of scientific problem-solving. Although my focus has transitioned in college from biomedicine to artificial intelligence to applied math, I've known since then that I wanted to do research." 
Peake said her thesis advisor, mathematics professor John Gemmer, was influential in challenging her to grow in her research and apply for the NSF grant.
"I am so honored to receive this fellowship and excited to continue doing research using mathematics to understand and address social problems." Ashley Peake ('23)
In addition to winning the NSF research grant, Peake was a Goldwater Scholar during her junior year at Wake Forest and is a Stamps Scholar.
Whyte, who is from Brookline, Massachusetts, studies mathematical models for how a system evolves in time and space from a sociological perspective. Her most recent research projects have been in the study of opinion dynamics, which is broadly concerned with how opinions evolve over time within a population. 
She will be pursuing a Ph.D. in applied mathematics at Brown University.
"Through research in this field, we can better understand how misinformation spreads, political polarization occurs and many other phenomena important to a well-functioning society while also developing new mathematical theory," said Whyte.
"I look forward to being challenged in my research and coursework while working with others to broaden mathematical knowledge as a whole. " Malindi Whyte ('23)
Whyte said Gemmer provided opportunities for research that helped her decide on her next steps after graduating from Wake Forest. 
"He was the first professor to encourage me to pursue a Ph.D. in applied math, a path I had never previously considered. He holds weekly applied math group meetings that provide a forum for professional development as well as a way to promote community among the students in the department."  
For Gemmer, who has mentored numerous other students who have earned prestigious national scholarships, each mentee requires a different approach. "The key is to listen to each student's scientific interests and career goals while also understanding individual strengths and weaknesses," said Gemmer. "I work with the students I mentor to create projects that have high expectations, are interesting and allow them to turn weaknesses into strengths."
Continuing a Ph.D. in chemistry
Dawson, a William Randolph Hearst Scholar, is pursuing a Ph.D. in chemistry at Wake Forest and has completed his first year. His research focuses on the synthesis of sulfur and/or selenium-containing organic molecules that have interesting biological activity. The NSF grant will fund his second year at the University.
Chemistry professor John Lukesh, Dawson's research advisor and mentor, provided constructive feedback while Dawson was writing his proposal for the NSF Graduate Research Fellowship Program. 
"Given the small number of graduate students in his research group, it was possible for me to talk frequently with professor Lukesh about the next steps in my research project as well as my professional development," said Dawson.
"Scott has a genuine love for science and an intellectual curiosity that is truly palpable. To the best of my knowledge, he is the first graduate student from our department to earn an NSF Graduate Research Fellowship, so this is certainly quite an accomplishment for Scott and a very big deal for our chemistry graduate program at Wake," Lukesh said.
About Wake Forest University Scholars Office
The on-campus preparation and nomination process for the NSF Graduate Research Fellowships and other external scholarships is coordinated through the Wake Forest University Scholars Office. Interested students are invited to visit the website to learn more and arrange an appointment.
Categories: Scholars, Top Stories
Wake Forest in the News
Wake Forest regularly appears in media outlets around the world.