Main Content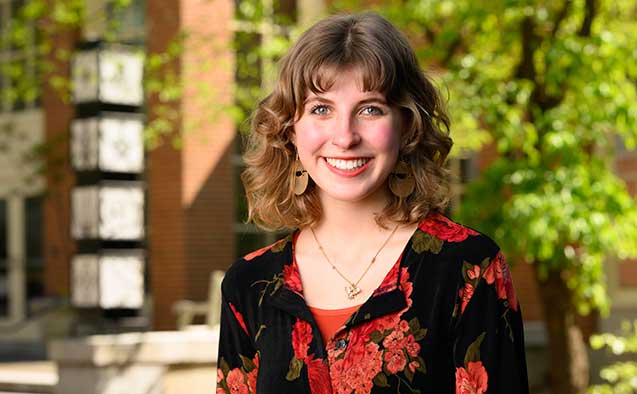 The Pulitzer Center has selected junior Una Wilson as Wake Forest's 2023 Reporting Fellow. She will receive a $3000 stipend to report on the impact of community gardens on poor communities near Mumbai, India.
The title of her research project is "Mumbai slum gardeners plant seeds to save lives." In her application to the Pulitzer Center, Wilson highlighted the massive population growth in urban industrial cities worldwide and how these densely populated areas are creating public health concerns.
"Unstable construction of tightly packed buildings, poor sanitation, and polluted water and air pose serious human health risks, including malnutrition, disease, and death," she said. 
To combat these issues, Wilson notes that nearly 20 different citizen groups (mostly women-led) and non-governmental organizations have transformed bits of unused urban slum land into productive community gardens.
"Accessible nutritional food, educational opportunities, empowerment of women, healthier environmental conditions, and improved human mental and physical health are crucial in addressing the long-standing humanitarian crises facing millions of people in Mumbai's slums," she added.
Wilson, a junior from Winston-Salem who is majoring in biology with minors in environmental studies and journalism, is building on her prior student research about community gardens.
Two years ago (Summer 2021), she studied the cultural influences behind community gardens across five boroughs of New York City. As part of the Pulitzer Center Fellowship, she will travel to India to gather research and report on several stories.
"These gardens tell a story of sacrifice, activism, and collaboration." Una Wilson - 2023 WFU Pulitzer Center Reporting Fellow
"They also highlight an innovative solution to major global human and environmental health crises. Because many of these garden projects are in their beginning stages and their impacts on health have not yet been studied, they have received little major international media coverage. In my project, I will tell the stories of the groups who initiated these gardens, the residents affected, and the resulting changes to the community that might inspire governments and citizens worldwide to adopt community gardens as an invaluable piece of future urban design," she said.
The Pulitzer Center awards fellowships to students from its Campus Consortium partners to cover a wide range of issues from climate change to migration and refugees. They receive funding and mentorship to report from the U.S. and around the world. 
The Wake Forest University Journalism Program has been affiliated with the Pulitzer Center's Campus Consortium since 2012. Previous fellows have reported from Algeria, Brazil, Italy, France, Denmark and Thailand. This is Wake Forest's first fellow to report from India.
"Una's application stood out among one of the most competitive application processes for the Pulitzer fellowship in years," said Justin Catanoso, professor of the practice in journalism and the program's liaison to the Pulitzer Center. "Given her myriad reporting and writing skills, and her dual passions for the environment and social justice, she is uniquely qualified to pursue this ambitious reporting project in India."
Once her work is completed, Wilson's multimedia stories will be published on the Pulitzer Center website along with stories by previous Pulitzer Fellows from Wake Forest. The University's journalism program also provides support for the fellowship.
Wilson is the University's twelfth fellowship recipient.
Categories: Top Stories
Wake Forest in the News
Wake Forest regularly appears in media outlets around the world.