Main Content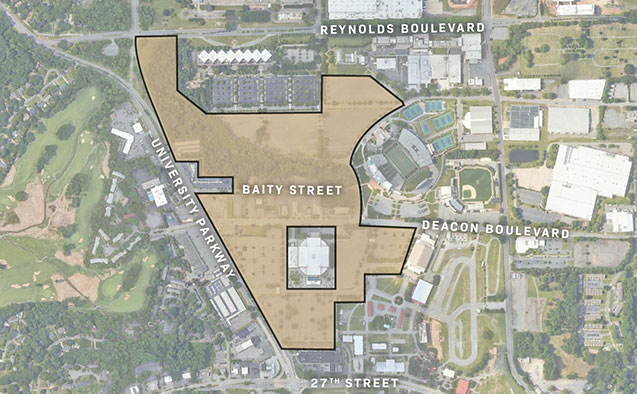 Wake Forest University has selected the team of Carter and Front Street Capital to explore redeveloping University-owned property, east of the Reynolda Campus adjacent to Allegacy Stadium, Couch Ballpark and the Lawrence Joel Veterans Memorial Coliseum. The University selected Atlanta-based Carter with Winston-Salem-based Front Street Capital through an extensive process that highlighted the groups' relevant project experience and success, as well as their approach to development adjacent to universities and within similar communities.
Wake Forest and Carter/Front Street are collaborating with the City of Winston-Salem to develop an initial transformative vision for a lively mixed-use development with the goals of stimulating economic activity and reinforcing Winston-Salem's position as a leading tourism, sports, and entertainment destination. The team is evaluating the addition of new retail, restaurant, experiential, and residential uses that will benefit residents, students, and visitors alike.
"This part of our city to the east of Wake Forest's Reynolda Campus presents numerous opportunities for business, residential, and retail spaces," said Wake Forest President Susan R. Wente. "We want to support a thriving community where people can live, work, play and stay, with a goal of ensuring the area between Reynolds Boulevard and Coliseum Drive serves our Winston-Salem community."
"We want to support a thriving community where people can live, work, play and stay, with a goal of ensuring the area between Reynolds Boulevard and Coliseum Drive serves our Winston-Salem community." President Susan R. Wente
This area is currently home to many of Wake Forest's athletic teams and to programs that support the community, such as the Healthy Exercise and Lifestyle Programs (HELPS) and the Wake Forest tennis center, which provides year-round programming for adults and children, as well as hosts the annual ATP 250 Winston-Salem Open.
Wente continued: "Adjacent to several residential communities, including the historic Boston-Thurmond neighborhood, our exploration of development opportunities with Carter/Front Street will be guided by a strong commitment to our community's collective wellbeing."
The site being evaluated for redevelopment is bordered by Deacon Boulevard, University Parkway, the Winston-Salem Fairgrounds and the Allegacy Stadium sports complex.
"We're honored to partner with Wake Forest to explore the development of this area as a vital and active asset for the city of Winston-Salem." Winston-Salem Mayor Allen Joines
"The demand in the region for housing, dining, and entertainment options is high, and we look forward to working with Wake Forest and Carter/Front Street to create a plan for this area that supports the interests of the surrounding communities," said Winston-Salem Mayor Allen Joines.
The development project will enhance the event and entertainment activities already taking place at Wake Forest's athletic venues and the Winston-Salem Annex and Fairgrounds, as well as drive economic activity and tourism to Winston-Salem and Forsyth County.
During the project evaluation process with Carter/Front Street, the team will explore private-sector investment opportunities and garner feedback from the community and stakeholders to support the development effort.
Carter is a leading national real estate development and investment firm headquartered in Atlanta, Georgia. The company has considerable mixed-use development experience, having delivered The Banks in Cincinnati, Ohio, and City Springs in Sandy Springs, Georgia, and is currently under development on Summerhill, the 80-acre redevelopment of the area including Turner Field, the former home of the Atlanta Braves and new epicenter of Georgia State University athletics. Extensive collaboration with the Summerhill community, city, and university has led to 50,000 SF of adaptive reuse retail, including restaurants, specialty shops, and services, an 85,000 SF Publix Grocery Store-anchored shopping center, market-rate multifamily, private student housing, townhomes, and infrastructure improvements.
For the project, Carter is partnering with Front Street Capital, a Winston-Salem-based development, asset management, and private equity real estate company. Front Street Capital recently delivered Bailey South, an adaptive reuse, mixed-use project in Winston-Salem's central business district.
This area of Winston-Salem hosts more than 750,000 event patrons annually with total event days exceeding 260 each year. Popular attractions include Wake Forest University's Atlantic Coast Conference, Power Five sports teams, the Carolina Classic Fair, the Winston-Salem Thunderbirds, the ATP Winston-Salem Open and numerous concerts and shows throughout the year.
"There is enormous potential for investment in this area which would not only bolster our goal of providing the Best Fan Experience in North Carolina, but also create year-round opportunities to gather and build community," said Wake Forest Athletics Director John Currie. "Coming off an incredible year where our stadiums and LJVM Coliseum hosted over 450,000 attendees for Demon Deacon athletics events, plus a recent history of incredible concerts and special events like Paul McCartney in 2022 and Billy Strings in 2023 and the annual ATP Winston-Salem Open, the time is right to collectively create the most exciting live-work-play development in northwest North Carolina, which in turn will help attract even more major event opportunities."
"The national experience of Carter, bolstered by the local knowledge and development experience of Front Street Capital is a combination that we expect to be very powerful. We are looking forward to working with both firms as the vision for development evolves," said Wake Forest Executive Vice President and Chief Financial Officer Jacqueline A. Travisano. Residential, retail, dining, entertainment and hospitality that will benefit visitors to Winston-Salem, Forsyth County, and the local community are being evaluated as possible development assets for the site.
The University's core academic functions in Winston-Salem will continue to be based on the Reynolda Campus and at Wake Downtown. Development prospects for this area are envisioned as a gateway to new opportunities for the Winston-Salem community and those visiting the city.
What they are saying
Denise D. Adams, Winston-Salem City Council Member: "This is an exciting opportunity for North Ward residents to influence the future of Winston-Salem. I look forward to a collaborative process to envision and act on community development priorities."
Mark Owens, President and CEO of Greater Winston-Salem, Inc.: "This exciting project complements the many existing venues and events enjoyed by Winston-Salem residents and visitors. It helps us continue to compete as one of the best places to live – with family-friendly entertainment options a top factor in people's relocation decisions. Businesses and investors are also going to be very attracted to development opportunities in the Deacon Boulevard area."
Additional Points of Interest
Wake Forest has a significant presence in this area. A group of Athletics staff has offices in the Allegacy Stadium complex, and several administrative units have offices in the University Corporate Center. This area is also home to several community-serving and research facilities, including the Healthy Exercise and Lifestyle Programs (HELPS), Atrium Health Wake Forest Baptist Orthopedics and Sports Medicine in the Pitching Lab, and the Center for Nanotechnology and Molecular Materials.
The emerging vision for development is consistent with the 2015 North-Central Winston-Salem Area Plan Update and the 2020 Airport/Whitaker Park Plan, both of which outline the desire for a mixed-use district along Deacon Boulevard and Baity Street.
Categories: Top Stories
Wake Forest in the News
Wake Forest regularly appears in media outlets around the world.