Main Content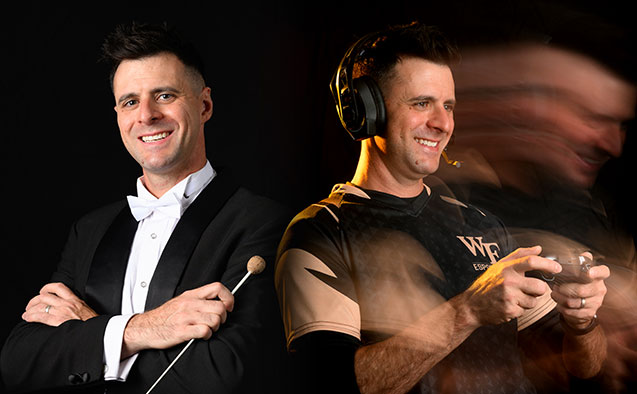 Gaming continues to grow among people of all ages and backgrounds and represents (as of 2022) a $85 billion industry in the U.S. alone.  It is projected to reach a worldwide revenue of $533 billion by 2027.
Research shows that due to smartphones, gaming continues to increase across all demographics worldwide. Like opera in its golden era, the music, storytelling and emotional experience of playing video games in community is a normalized, global and cultural experience that is raising appreciation for artistic expression in symphonic music.
Aaron Hardwick is an assistant professor of music at Wake Forest and director of the University Symphony Orchestra. His research on gaming music suggests performance of video game music by American symphony orchestras has and will continue to open new pathways for listening, performance and composition that is increasing audience engagement in symphonic music.
What role does music play in the gaming experience?
Music plays many different roles in gaming. Game sound was birthed in tabletop games and saloon slot machines. Sound was the reward signifying that a player had won (or lost). Today, gaming sounds let players know when they succeed, accomplish something, or fail. The music and sound help support the narrative and provide the emotional underpinning for immersive play. Music can also function as an educational tool, directing players to complete certain actions, proceed a certain way, or avoid certain areas.  These are just a few of the functions of game audio.
We have come a long way since the 8-bit days of the Atari and Nintendo. Many of today's games are massive (some are 500+ hours of play), have deep storylines, and complex characters that demand complex music. These stories represent a variety of histories and cultures. Creators want to ensure that the cultures and peoples are represented correctly. Gaming by its nature is inclusive and strives to be a safe space for all players to experience joy, discovery and wonder during gameplay. Those three things also have to exist to both compose beautiful music and experience it. 
How are video games raising awareness of symphonic music?
Gaming is immersive. Players interact with the software and hardware. The music and sound are layers that synergistically help drive narrative and gameplay. Like Beethoven writing a great symphony, or Puccini a great opera, the individual parts are key in the overall experience. While some video games use newly composed music, they may also use parts or entire works of existing classical music. In a recent interview at Ireland's "Big Idea" Event, award-winning female conductor, video game composer and arranger Eimear Noone said, "More young people listen to orchestral music through their game consoles today than have ever listened to orchestral music in the history of music." In 2018, a poll by The Royal Philharmonic found that more young people are finding out about classical music through video games than attending live concerts.
"Video game music stands on its own as an art form that can elevate live symphonic performance." Aaron Hardwick
Gamers are enjoying classical music in the video gaming experience, but is gaming music making its way into performance halls? 
There have been many live video game music concerts worldwide. Most of them occur in Europe and Asia. In the U.S. the very first video game music concert took place in 2004 at the Walt Disney Concert Hall. It was a two-hour concert of music from the game "Final Fantasy" performed by the Los Angeles Philharmonic and Los Angeles Master Chorale. In June 2023, the Royal Philharmonic performed their second, sold-out concert entitled "Video Games in Concert." People are looking for diversity in programming by major symphony orchestras. When orchestras play music from games, it can bring the listener back to the experience of being immersed in the game.
Will more orchestras consider offering concerts featuring gaming music?
Yes. Conductors and concert curators are working with symphony orchestras and game publishers to bring more video game music to the concert stage. There is a growing interest in educationally-based, inclusive and immersive concert experiences for symphony orchestras and their audiences. Video game music stands on its own as an art form that can elevate live symphonic performance. As gaming continues to grow and expectations for more immersive experiences rise, a need for more complex scorewriting will continue. New compositional techniques and considerations for new harmonies and melodies have already been created to enhance the gaming experience.  The increase in video game soundtrack sales and listeners tells us that audiences care about game music independently of gameplay.
What's next?
With the increasing complexity of immersive games and interactive audio, traditional compositional models of harmony, melody and form have shifted. Tools, technology and education for composers will continue to transform. The next frontier may be customized AI-generated soundtracks for the individual player. A soundtrack based on the player's decisions, likes and dislikes – creating a truly individualized immersive experience. For the concert stage, live video game music performances will increase. By including video game music in concert hall performances, symphony orchestras can increase their appeal to the more than 3 billion people who are listening to musical compositions during their weekly gaming time.
You developed and teach Wake Forest's first-ever class on Video Game Music.  What do you hope students will take away?
I hope students take away an overwhelming sense of the artistry that goes into the process of creating music for games. I also want them to know about the many job opportunities and pathways that the game industry provides–especially in audio and music. Video game music can help change the future of concert performance. I want my students to be aware of the complexities of video game music and the beautiful works created for all to enjoy – gamers and nongamers alike.
Categories: Top Stories
Wake Forest in the News
Wake Forest regularly appears in media outlets around the world.