Main Content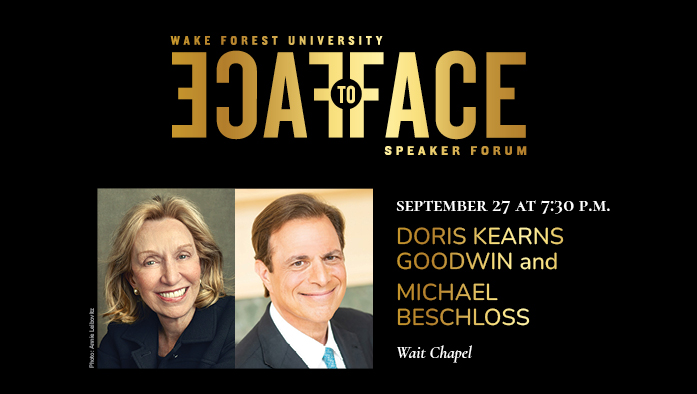 Political historians Doris Kearns Goodwin and Michael Beschloss will join the Face to Face Speaker Forum for an evening of conversation with American journalist E.J. Dionne on Wednesday, Sept. 27 at 7:30 p.m. in Wait Chapel.
Doris Kearns Goodwin is a world-renowned presidential historian, public speaker and Pulitzer Prize-winning, New York Times #1 bestselling author. Since 2020 she has served as executive producer for the History Channel's miniseries events "Washington," "Abraham Lincoln" and "Theodore Roosevelt." Goodwin is the author of seven critically acclaimed and New York Times bestselling books. Her interest in presidential leadership was inspired by her experience as a 24-year-old White House Fellow, working directly for President Johnson in his last year in the White House, and later assisting him in the preparation of his memoirs.
Trained at the Harvard Business School in leadership studies, Michael Beschloss is a contributing columnist for The New York Times, writing a monthly column on business history and a weekly column on sports history. Winner of an Emmy Award, Beschloss also serves as "NBC News" Presidential Historian and contributes to the "PBS NewsHour." He is the author of nine bestselling books, including "Presidential Courage: Brave Leaders and How They Changed America 1789-1989," "Jacqueline Kennedy: Historic Conversations on Life with John F. Kennedy" (co-authored with Caroline Kennedy) and two volumes on President Lyndon Johnson's secret White House tapes. 
E.J. Dionne Jr. writes about politics in a twice-weekly column for The Washington Post. He is also a government professor at Georgetown University, a visiting professor at Harvard University, a senior fellow in governance studies at the Brookings Institution and a frequent commentator on politics for National Public Radio and MSNBC. His book "Code Red: How Progressives and Moderates Can Unite to Save Our Country" was published by St. Martin's Press in February. 
In addition to the Face to Face keynote event, students from Wake Forest Unversity and all institutions of higher learning in Winston-Salem are invited to attend a student-led conversation at Wait Chapel at 5 p.m. The event is moderated by students from Wake Forest's Program for Leadership and Character.
Media are welcome to the student-led conversation at 5 p.m. and the keynote event at 7:30 p.m. Photography and video are limited to three minutes. Contact media@wfu.edu if you plan to attend either event.
The community-facing Face to Face Speaker Forum brings world-renowned, influential voices to Winston-Salem to discuss topics in a variety of areas including politics, arts and culture, business and social justice. 
This Face to Face Speaker Forum Goodwin and Beschloss is presented by Reynolds American. A complete list of Face to Face Speaker Forum sponsors is available here.
Categories: Top Stories
Wake Forest in the News
Wake Forest regularly appears in media outlets around the world.