Main Content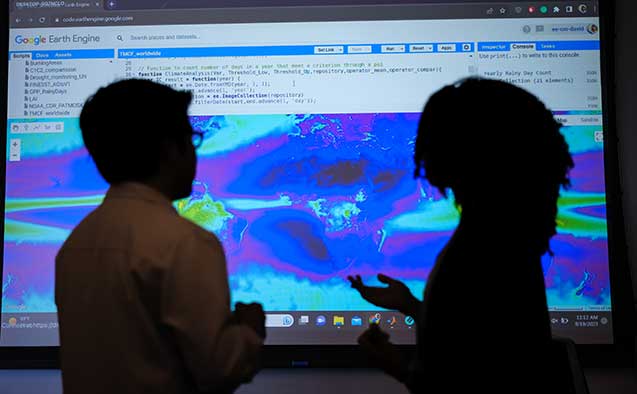 Wake Forest graduate student David Carchipulla-Morales is fascinated with tropical montane cloud forests. He grew up in Ecuador where they are part of this small country's landscape.
"The beauty and complexity of these tropical forests that are also home to mountains have always sparked an interest in learning more about them."
As part of his doctoral work in physics at Wake Forest, Carchipulla-Morales is currently investigating changes in climate and land use in these forests. They are located at the headwaters of major river basins, including the Amazon, where they are an essential source of fresh water to populations downstream.
Tropical montane cloud forests are difficult to study because they are in high-elevation areas – which makes it harder for people to get to – and they are cloudy most of the time. Capturing aerial data can be challenging.
The Proposal
Now with the help of NASA, Carchipulla-Morales will dig deeper to learn more about how the energy and water exchange processes at work in these tropical forests.
The space agency recently awarded him the prestigious Future Investigators NASA Earth and Space Science Technology (FINESST) grant. Only about 100 proposals were selected for the grant out of nearly a thousand applications.
Lauren Lowman, assistant professor in the Department of Engineering at Wake Forest, was named the principal investigator for the research project and will provide advising and mentorship.
"I don't think that people fully recognize that these forests are important globally in terms of water and carbon budgets," said Lowman.
"Water budgets impact carbon budgets, and so getting both correct in future climate models or trying to project these changes when you have deforestation matters a lot."
A key plant in tropical montane forests
Their primary focus is studying the critical role that epiphytes play in the overall health of these ecosystems. Epiphytes are plants that grow and live on the branches of trees in tropical forests and collect water and nutrients from the air.
"Epiphytes are like having a bucket that collects what the trees need to flourish," said Carchipulla-Morales."They can hold up to four times their dry weight in water and help create humid microecosystems."
They will look at tropical montane forests in Costa Rica, Hawaii, Ecuador, Columbia and Peru.
To get a better estimate of evapotranspiration rates of these plants, they will use data from NASA satellites. That data will be analyzed using the University's High Performance Computing Center called the DEAC Cluster.
"We will look for differences in evapotranspiration rates (transfer of water from the soil surface to the atmosphere) for tropical forests where we're certain that epiphytes are versus areas where we're sure that there are none," said Lowman. "We want to investigate over time how evapotranspiration rates have changed as a result of deforestation or climate change."
Inspiring future environmental scientists
The three-year NASA grant provides a stipend of up to $50,000 each year to help cover the cost of tuition, travel, and other expenses. It also  provides opportunities to network with scientists at NASA and help Carchipulla-Morales launch his  career in environmental research.
"I feel inspired to create new science and there's a lot of encouragement from Professor Lowman, Wake Forest University and NASA. I feel supported, that I'm not doing this alone," he said. "It's an important opportunity as an independent researcher, but also a time for reflection, and now I have the resources and time to answer questions that I come across in the research process, however difficult they may seem."
Carchipulla-Morales's winning proposal is called Climate Regulators: Evaluating the Effect of Epiphyte Abundance on Spatial Patterns of Evapotranspiration in Tropical Montane Cloud Forests.
The research project will take place in three phases, with the first one beginning this fall. Wake Forest undergraduate students will assist with some of the data analysis.
This is the second time a Wake Forest graduate student has won the NASA Earth and Space Science Technology (FINESST) grant.
In 2012, Noah Yavit received an Earth & Space Science Fellowship (the previous name of the NASA program). Biology professor Miles Silman served as the mentor and advisor for Yavit's research project, Ecosystem Effects and Carbon Content of Amazonian Bamboo-dominated Forests.
Categories: Top Stories
Wake Forest in the News
Wake Forest regularly appears in media outlets around the world.