Main Content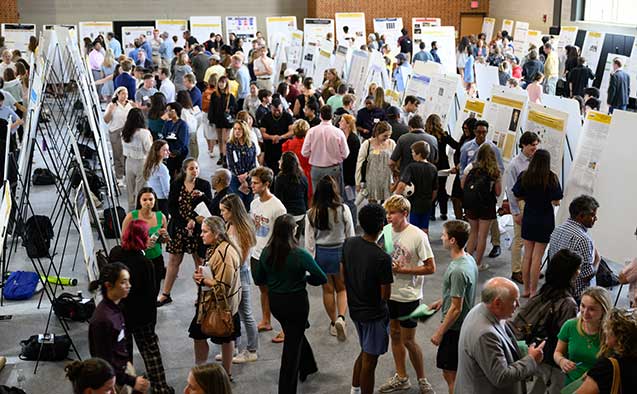 Inside the lower gym at the Sutton Center, posters lined several rows as students prepared to talk about their research projects. Sophomore Evan Harris nervously straightens his shirt and prepares to talk about his research project as the first wave of visitors enters the symposium.
"I took a closer look at the Hindu religion in Bali," Harris said. "I'm half Indonesian and have extended family there and it was important for me to show people the Balinese culture outside of what they might see online focused on beaches and tourism."
Harris, a communication major from Greensboro, traveled to Bali for two months as a Richter Scholar. His poster is filled with images of performances, arts festivals and locals making crafts. He also interviewed residents in the communities that he visited.
"My project highlights Balinese culture through an artistic photographic lens." 
Celebrating undergraduate scholarship
Wake Forest University's URECA student research day is held in the fall each year during Family Weekend. It began nearly 20 years ago and has grown. This year, 140 undergraduate students and more than 120 faculty mentors participated in the event. It provides an opportunity for undergraduate students to present their recently completed and ongoing research projects in both poster format and in oral presentations.
Students present their findings to peers, faculty members, staff and family members.   
"URECA Day is really an opportunity for us to enjoy and celebrate the work that students have been doing with faculty over the course of the past year," said Wayne Pratt, professor of psychology and director of the URECA Center. "That research takes many flavors. It can be in a chemistry or biomedical lab, in an art studio, it can be abroad looking at an environment in which scholarship is done."
"The range of questions are only limited by the imagination of our students. " Wayne Pratt, director of the Wake Forest URECA Center
From using mathematical models to get a better understanding of multiple capillary layers in the human retina to study eye diseases to exploring the use of a specific type of carbon dot for the detection and removal of PFAS chemicals in drinking water, the projects on display do more than tell a story.
For senior Jocelyn Huang, building off knowledge gained in a previous class experience led to an unexpected opportunity.  Huang participated in research looking at the impacts of fire on vegetation at nearby Pilot Mountain and then went farther afield for her current research.
"That made me think a lot about what fire can do in forested areas," said Huang. "My URECA project looks at the impacts of seed mass and heat on two woody species in the African savanna. We found that fire can benefit the trees." 
Just a few rows over, Sydney Reimer, a junior chemistry major from Berkeley, California is showcasing her summer research that took place in a lab at Wake Downtown.  She studied how treatment drugs enter a cancer cell to eventually kill off those cells.
Reimer said her favorite part about the URECA experience was the collaboration. Each undergraduate student is paired with a faculty member who provides mentorship and advising.
"The help of undergrads has brought us closer to our goal to move these small molecules that we make in the lab into clinical trials. Our small molecules target cancer cells by destroying the DNA in cancer cells," said Uli Bierbach, a professor in the Chemistry department who co-mentored Reimer along with Erin Henslee, an assistant professor in the Engineering department. 
The significance of the teacher-scholar model at Wake Forest is displayed throughout URECA Day. A hallway that joins the oral presentations is lined with pictures of faculty who have been recognized with an award for their excellence in mentoring. Beirbach is the 2023 winner and said the event is a reminder of the impact that the University has on life-long learning.
"My feeling is pride when I see these young scientists when they are done in my lab and advance in their field of study – and having students that appreciate the various aspects of the process of making a cancer drug," said Bierbach.
Oral Presentations
During URECA Day, undergraduate students can apply to explain their research with a formal oral presentation. Five students were selected to discuss their projects in this format. 
First up was Nathaniel Avery, a junior theatre major from Connecticut.  His research took the audience on an interactive tour that explored the stylistic and musical inspirations of the play "Urinetown". This spring, the Wake Forest University Theatre will be staging the Tony award winning satire-comedy. 
"It is vital to know and understand these various influences because it fills in gaps we wouldn't know for purposes of directing, designing, and choreographing this show in an effective and thoughtful manner."
Over the summer, junior health and exercise science major Mary Hunter Hite spent time in a lab at Wake Forest's School of Medicine.  
"The URECA program has been phenomenal," said Robert Gould, assistant professor in physiology and pharmacology at the medical school. "It gives students a great foundation with research to then come in and decide if they want to go to medical school or perhaps pursue research as a career."
Gould co-mentored the undergraduate research project along with Kimberly Holter, a fifth-year PhD student in the Integrative Physiology and Pharmacology program.
This type of research experience can change people's lives.
"Mary Hunter Hite is working on one part of a very large project and so a lot of our findings can eventually translate to not only schizophrenia, but also neuropsychiatric symptoms associated with Alzheimer's disease and a bunch of different neuropsychiatric disorders," said Holter.
English major Asya Taylor took a deep look into Black life and culture in the United States in the early 1920s through a literary lens. She analyzed two dozen issues of "Opportunity: A Journal of Negro Life". The monthly publication was the official journal for the National Urban League.
"I was able to capture important aspects of Black history during this period," said Taylor. "At various points, contributors engage in tense exchanges over a central question:  Who can authentically tell a Black story? This research highlights the ways in which literary standards are heavily contested and ever evolving." 
Impact and lifelong learning
URECA Day is one of many opportunities at Wake Forest that provides students with pathways to get involved and help them make connections in the world.
All of this is important to sophomore Juan Londono. The first-generation college student from Miami tapped into his Spanish language skills to help him conduct research in Madrid, Spain. Londono's project focused on creating a soundscape for the city. His presentation included clips of rain, conversations, and music.
"Understanding the sonic environment gave insight into the culture built in the city of Madrid, the way it functions, and the way that different aspects play different roles in building that culture," he said.    
The undergraduate research experience through URECA often extends beyond family weekend. Some students continue to work with a faculty mentor, go to conferences and present research with their mentors or end up as co-authors on research papers. 
Since 2008, URECA has funded more than 800 summer scholars.
To view more photos from Wake Forest University's Family Weekend, including URECA Day click here.
Categories: Top Stories
Wake Forest in the News
Wake Forest regularly appears in media outlets around the world.