Main Content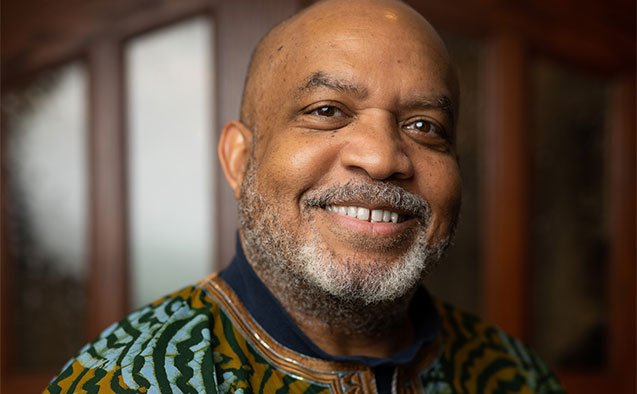 Alton B. Pollard III will join the faculty of Wake Forest University as the James and Marilyn Dunn Chair in Baptist Studies in the School of Divinity and University Professor of African American Studies in the College of Arts and Sciences beginning July 1, 2024.
"We are extremely delighted to have Dr. Alton Pollard return to Wake Forest University to share his extensive knowledge, leadership, and experience in graduate theological education and scholarship and teaching in African American religion and culture," said Corey D. B. Walker, dean of the School of Divinity, Wake Forest Professor of the Humanities, and director of the Program in African American Studies. "Professor Pollard's teaching and research will make a significant contribution to the School of Divinity and Program in African American Studies and deepen teaching and research collaborations between the School of Divinity and other departments, programs, and initiatives in the College and across the University."
"I am thrilled to welcome Dr. Alton B. Pollard III back to Wake Forest University," said Jackie Krasas, dean of the College and Graduate School of Arts & Sciences. "Dr. Pollard's extensive expertise as a renowned scholar, author, and leading voice on African American studies and U.S. religious culture will continue to enhance student understanding of the bridges between religious, social, and cultural perspectives. His dual appointment will also offer many collaborative and exciting opportunities between the College and the School of Divinity."
Pollard previously served on the faculty of Wake Forest University from 1988-1998 and was Luce Visiting Professor in the School of Divinity in 2009. The Dunn Chair honors the important work of James and Marilyn Dunn, who were influential Baptist leaders and committed to the work of the School of Divinity.
"Dr. Pollard and I were colleagues in the religious studies department when I first came to Wake Forest, and I deeply value his friendship," said Bill J. Leonard, founding dean of the School of Divinity and Professor of Divinity emeritus. "His superb scholarship, openness to students, and broad ecumenical networks make his return a great gift to the School of Divinity and the University. He represents the best of the spiritual and dissenting traditions of the Baptists; James and Marilyn Dunn would be delighted that he occupies the chair that bears their name."
Pollard has a distinguished record of research and teaching in American and African American religion, thought, and culture. He recently retired from Louisville Presbyterian Theological Seminary, having served as President and Professor of Religion and Culture from 2018-2023. As a result of his distinguished service, he was designated President Emeritus upon his retirement.
"It is hard to believe that more than thirty-five years have passed since my first connections with this stellar academic community, where I was invited to plumb the depths of the religious enterprise, to embrace new forms of possibility for the humanity of us all, to explore untested manifestations of freedom, democracy, and change in an age of outrageous injustice," said Pollard. "Life's calling for me has been fierce and insistent, faithful and disruptive, ever since, and finds common ground in Pro Humanitate. I look forward to continuing this good and just work."
Pollard has held academic leadership and faculty appointments at Howard University, Emory University, and St. Olaf College. He has held visiting appointments at UNC Greensboro, University of Transkei, Tuskegee University National Center for Bioethics in Research and Healthcare, and Eden Theological Seminary. He was also a distinguished scholar in residence at Brite Divinity School.
Pollard is the author and editor of seven books, including "Mysticism and Social Change: The Social Witness of Howard Thurman" and "The Black Church Studies Reader." He has published over fifty scholarly journal articles and book chapters along with numerous articles, essays, and commentaries for general audiences.
"Dr. Pollard is that rare academic, a gifted and dedicated teacher and a brilliant public intellectual. He will contribute mightily to Wake Forest, whether he is illuminating new pathways into congregational life and the ministry, or helping us develop new interdisciplinary curricula and cross-school initiatives, or exploring our institutional history and memorialization," said Provost Michele Gillespie.
At Wake Forest, Pollard will expand intellectual conversations beyond disciplinary boundaries to engage critical questions about religion, culture, politics, and the human condition. He will add to the rich tradition in the School of Divinity and in the College of examining the complex and changing role of religion in American public life. Pollard will also convene an annual gathering of scholars, artists, practitioners, and public officials to engage some of the pressing issues of concern around religious life and expression in America and the world.
Pollard serves on the Board of Directors of In Trust Center for Theological Schools and chaired the Louisville Institute Advisory Board. He has served on the Hanover College Board of Trustees, the Board of the Center for Congregations, and the Luce Fund for Theological Education Advisory Committee, among others. Pollard was on the Board of Commissioners for the Association of Theological Schools from 2010-2016 and served as chair from 2014-2016. He is a member of the Society for the Study of Black Religionand the American Academy of Religion.
A graduate of Fisk University where he earned his bachelor's degree, Pollard earned his master of divinity degree from Harvard University and his doctor of philosophy degree from Duke University.
Categories: Top Stories
Wake Forest in the News
Wake Forest regularly appears in media outlets around the world.