Main Content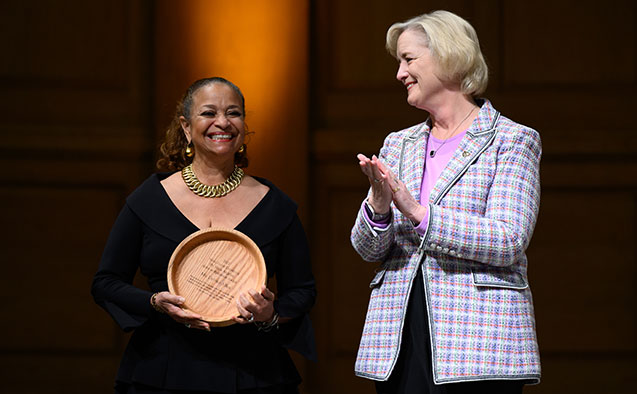 On Sunday, Nov. 12, President Susan Wente presented the Inaugural Maya Angelou Artist-in-Residence Award to Hollywood Walk of Fame Star Debbie Allen in Wait Chapel. 
The award was given ahead of a moderated conversation with Allen led by Wake Forest dance professor Nina Lucas and alumna Monet Beatty ('20, MA '21).
When accepting the award, an emotional Allen said, "This is very special for me. My legacy is tied to her now, which means I have to work hard."
"At 73, there's so much I have to learn. There are still things I aspire to achieve. And it doesn't happen without study." Debbie Allen
Allen, a dancer, actress, choreographer, director, producer, teacher and children's book author, told the audience that, like Maya Angelou, she is a dancer first. 
"I'll always think of Maya Angelou as being so full of life. I remember talking with her about dancing. We both understood that the dance world gets you ready for the rest of the world – criticism, repetition, hard work, sweat, and then the joy."
"Everything in the universe has a rhythm, everything dances." Maya Angelou (1928-2014)
The Maya Angelou Artist-in-Residence Award honors world-renowned artists who reflect Maya Angelou's passions for creating, performing and teaching and celebrates exceptional artists for combining achievement in the arts and a commitment to improving the human condition. Angelou was Reynolds Professor of American Studies at Wake Forest from 1982 to 2014.
When asked what advice she would give to young creatives dreaming of a successful career in the arts, Allen said, "If you master one aspect of the arts, it will lead to other things. For me, it was the dance that led to acting that led to singing that led to choreography and directing and producing. Master a skill set. Are you an actor? Are you a dancer? Are you a writer? Educate yourself and be curious."
To succeed in the arts, Allen said, "You are not competing with anyone else. You're competing with yourself. Success is often one step beyond failure. You have to keep your eye on the prize, and be humble."
Allen also talked about what inspired her to become an author, explaining that after her first child was born, she noticed there were few books featuring children of color, so she decided to write one.
"'Dancing in the Wings'" shaped me as a young dancer," said Beatty, owner of Monet Beatty Dance Company in Winston-Salem, North Carolina.
"I remember going to my first ballet class, and my mother put me in the wrong color tights – they matched my skin tone – and I was so upset. My mom bought me that book, and I learned it's okay to stand out. It's okay to be different." 
One-on-one with students
During her residency, Allen taught an advanced ballet class. After a 40-minute series of warm-up exercises and coaching, she choreographed a dance for the group.
"She was mixing a little ballet with a little jazz. She was pushing our boundaries," said senior Ellie Casteel, who is studying communication, English and dance. "She told us in the dance world it'll never be one style, and that is really true of the work world also."
Emphasizing the importance of education and learning, Allen asked students if they had heard the names Katherine Dunham and Martha Graham.
"Dancers are the smartest people on the planet," she said. "A dancer has to understand where things came from and why they are the way they are. You may be the next person to do something new, but you won't know it if you don't know what came before."
At Howard University, Allen earned a B.A. with a concentration in classical Greek literature, speech and theater. 
"In Greek literature class,  it was me and one other person," she said during a roundtable discussion with students in the Ring Theatre.
During her time on campus, Allen also attended the dress rehearsal of Wake Forest's Fall Dance Concert that opens Nov. 16.
Video and photos by Wake Forest social and videography team Mary K. Birch and Mike Shaw and photographer Lyndsie Schlink capture Debbie Allen's Artist-in-Residency.
Categories: Top Stories
Wake Forest in the News
Wake Forest regularly appears in media outlets around the world.