Main Content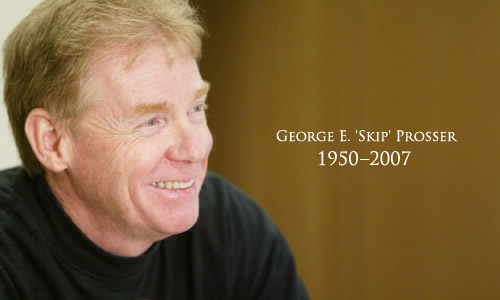 Wake Forest bid an emotional farewell to Skip Prosser on July 31. During a two-hour funeral mass that was more about faith, family and friendships than basketball, he was remembered for his outstanding character, his love for family, and the impact he had on countless lives, on and off the basketball court.
"Wake Forest is profoundly grateful for the gifts that this remarkable man displayed as he walked among us," said President Nathan O. Hatch at Skip Prosser's funeral. Also read the homily by Father Jude DeAngelo, Catholic campus minister.
From those who knew him when he was just starting out in West Virginia; to fans at Xavier; to Wake Forest students and alumni; even to Tar Heels and Hokies: Skip Prosser touched countless lives.
Skip Prosser's legacy is not so much what he did or how he did it, though his accomplishments were considerable. His legacy is who he was. He left a deep, lasting mark as one of the most positive, decent and fun-loving people to ever settle among us.
Skip Prosser came to Wake Forest in 2001 because he wanted to coach somewhere where people cared about basketball. In his six years as coach, alumni and fans also came to care about Prosser; that was obvious Thursday when his death rocked the University.
In their dark hours, Skip Prosser's friends long for someone to lighten the load. Someone like Skip Prosser.
North Carolina Senators Richard Burr ('78) and Elizabeth Dole's letters of condolence to President Nathan O. Hatch.
Skip Prosser died July 27 following a massive heart attack. "It's hard to imagine this community without him," University President Nathan O. Hatch said.
Athletics director Ron Wellman reflected on the life of Skip Prosser during a news conference July 27. "Skip Prosser was much more than a coach," he said.
The people who came to know Skip Prosser in the last six years valued him as much for his friendship as they did for his ability to build a basketball team.
"It's always a beautiful day in the forest of Wake," Skip Prosser once quipped. July 27 was not a beautiful day when the world of sports lost a true gem.
The news was hard to process and even harder to believe.
Skip Prosser handled adversity as well as he handled success — with class.
Skip Prosser combined a passion for his sport with a clever teacher's love of history and literature.
The reason Skip Prosser was so beloved by his peers was that he was genuine. He was honest. He seemed to be real.
With a wealth of young talent and verbal commitments from some of the nation's top players for 2008, the future of the basketball program looks bright.
George Edward Prosser III was born in 1950 in Carnegie, Pa. He is survived by his wife, Nancy, and two sons, Scott and Mark.
After seven seasons as head coach at Xavier, Skip Prosser was named head coach at Wake Forest in 2001. "He is a great basketball coach and beyond that he is a great person," athletics director Ron Wellman said in announcing the hiring of Prosser.
More reaction: