Main Content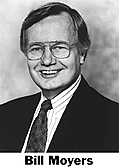 Bill Moyers, one of America's best-known commentators on religion, will share his insights on the spiritual journey of the United States and its people Wednesday, Nov. 19, in a speech at Wake Forest University for its 1997-98 Year of Religion in American Life.
The speech, "Religion in American Life: Reflections of a Long-time Observer and Participant," is at 8 p.m. in Wait Chapel. The program is free and open to the public.
During his 25-year career in television, Moyers has been executive editor of the highly acclaimed series, "Bill Moyers' Journal," senior news analyst for the CBS Evening News and chief correspondent for the documentary series, "CBS Reports."
Since establishing his own production company, Public Affairs Television Inc., in 1986, Moyers has produced more than 200 hours of programming, including several specials focused on religion: "Facing Evil," "God and Politics," "Amazing Grace," "Healing and the Mind" and his most recent program, "Genesis."
His work has earned Moyers more than 30 Emmy Awards.
Born in Oklahoma but raised in Texas, Moyers began his journalism career as a 16-year-old reporter at the Marshall News Messenger. He graduated from the University of Texas and later received the master of divinity degree from Southwestern Baptist Theological Seminary.
In addition to broadcasting, Moyers has pursued a wide range of public interests, from serving as deputy director of the Peace Corps in the Kennedy administration to acting as special assistant to President Lyndon B. Johnson. He left the White House to become publisher of Newsday, was a trustee of the Rockefeller Foundation for 12 years, and now serves as president of The Florence and John Schumann Foundation.
Categories: Arts & Culture, Events, School of Divinity, Speakers
Subscribe
Sign up for weekly news highlights.
Subscribe