Main Content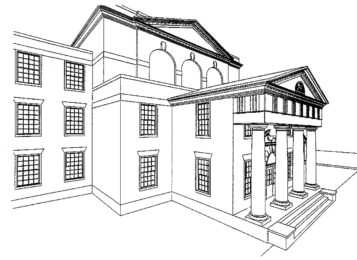 Construction will begin later this month on a two-story rotunda addition to Wake Forest University's Wingate Hall for its new divinity school.
Expected to be completed in spring 1999, the 2,000-square-foot addition will become the new entrance to Wingate and is part of $4.25 million in renovations to the building and the adjoining Wait Chapel. The rotunda's eight offices will house the school's dean, administrative staff and faculty.
The school has already raised much of the project's cost through pledges made in response to a $1 million matching challenge grant from Tom and Egbert Davis and Pauline Perry of Winston-Salem. The most recent gift was a $125,000 award from the Arthur Vining Davis Foundations in Jacksonville, Fla. The university is continuing to seek gifts for the rotunda addition.
"The rotunda is the latest — and most visible sign — that the divinity school has moved from plan to reality as we prepare for our fall 1999 opening," said Bill J. Leonard, the school's dean. "It will provide us with some much-needed space and is part of extensive renovations that will give both our staff and students access to the latest classroom technology.
"With its limestone columns and other features, Wingate Hall's new entryway will evoke many of the same characteristics of the Wait Chapel entrance — further strengthening the hall's historic visage and place on the central campus."
The $1.25 million rotunda is part of extensive renovations to Wingate Hall and Wait Chapel that began last summer. In Wait Chapel, contractors installed a new plaster ceiling for improved acoustics, refinished seats, replaced wiring and added new flooring. Installation of a new sound system this summer will complete the work in the chapel.
Wait Chapel and Wingate Hall were also connected to the campus' expanded system of cold-water pipes for air conditioning in 1997. In addition, new ceilings, flooring, wiring and other improvements were made to the religion department's space in Wingate to connect all classrooms and conferences rooms to the Internet and give them the latest multimedia capability for laptop computing.
The wing of Wingate housing Wake Forest Baptist Church offices and the divinity school's future classroom space is undergoing a similar upgrade this summer. It will be completed in time for the fall semester.
Categories: Campus Life, School of Divinity, University Announcement
Subscribe
Sign up for weekly news highlights.
Subscribe