Main Content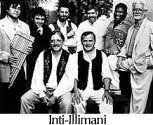 Inti-illimani, one of South America's major musical groups, will perform at Wake Forest University on Friday, Oct. 30.
The group's performance at 8 p.m. in Wait Chapel will feature music from their most recent release, "Lejania."
Inti-illimani (Inte-E-gee-mane), which celebrated its 30th anniversary last year, started playing together in the 1960s. The group and its music quickly became an important force in Chile's New Song movement, which spread throughout Latin America and was a vehicle of social expression during a turbulent political time.
Collectively, the eight-member group performs on more than 30 string, wind and percussion instruments. Their sound reflects Latin America's musical roots from the indigenous cultures of Chile, Peru, Bolivia, Ecuador and Argentina, but is also influenced by other countries and cultures.
Inti-illimani recently returned from a tribute concert performance in London where Peter Gabriel joined them on stage to play his song, "Hold On." Inti-illimani has previously performed with Gabriel, as well as Bruce Springsteen and Wynton Marsalis, during Amnesty International concerts.
Inti-illimani's performance is part of Wake Forest's Year of Globalization and Diversity, a yearlong series of events focused on the world's development into a more global community.
The public can purchase general admission tickets for $10. Tickets are free for Wake Forest faculty, students and staff with a valid university identification card.
To reach the Wake Forest box office, call 336-758-5295. Box office hours are from noon to 5:30 p.m. on weekdays. For more information about the Year of Globalization and Diversity, call 336-758-5788 or visit the year's Web site at www.wfu.edu/yogd.
Categories: Arts & Culture, Events
Subscribe
Sign up for weekly news highlights.
Subscribe