Main Content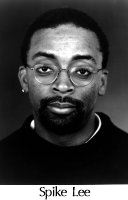 Film director Spike Lee will speak at Wake Forest University on Tuesday, Nov. 3, at 8 p.m. in Wait Chapel.
"An Evening with Spike Lee" is co-sponsored by the Wake Forest University Student Union and the Office of Multicultural Affairs. Tickets are $5 and are available in advance by calling the Student Union at 336-758-4869. Tickets also will be available at the door. Lee's 1989 film about urban racial tensions, "Do the Right Thing," won him an Academy Award nomination for best original screenplay and the best director award from the Los Angeles Film Critics Association. The film followed his first two professional films, "She's Gotta Have It" in 1986 and "School Daze" in 1988.
Politically-inspired and often controversial, his work has drawn a broad audience. Since "Do the Right Thing," Lee's films have included: "Mo' Better Blues" (1990), "Jungle Fever" (1991), "Malcolm X" (1992), "Crool" (1994), "Clockers" (1995), "Girl 6" (1996), "Get on the Bus" (1996), and most recently, "He Got Game" (1997). Lee has starred in more than 25 commercials, beginning in 1988 with his famous Nike Air Jordan ads. He collaborated with Michael Jordan on seven commercials.
The 41-year-old actor and director grew up in Brooklyn, then attended Morehouse College in Atlanta and New York University's Tisch School of the Arts, where he received a master's degree in film production. His 40 Acres and A Mule Filmworks production office; his record company, 40 Acres and a Mule Musicworks; and Spike's Joint, his retail store, are all based in Brooklyn.
Lee has produced and directed music videos for such well-known artists as Miles Davis, Tracy Chapman, Branford Marsalis, Anita Baker, Public Enemy and Steel Pulse.
Categories: Arts & Culture, Events, Speakers
Subscribe
Sign up for weekly news highlights.
Subscribe