Main Content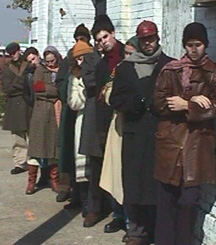 "Mad Forest," Caryl Churchill's play depicting Romanian life before, during and after the 1989 overthrow of dictator Nicolae Ceausescu, opens Nov. 6 at Wake Forest University.
The Wake Forest University Theatre production runs Nov. 6-7 and 11-15.
The play, directed by Wake Forest Assistant Professor of Theater Sharon Andrews, examines two Romanian families-one of laborers, one of intellectuals-before and after the revolution.
"Mad Forest" grew out of a visit by Churchill and director Mark Wing-Davey to Bucharest three months after the uprising during which Ceausescu and his wife, Elena, were executed. Churchill and Wing-Davey brought 10 students from the Central School of Drama in Britain to Romania to talk with and record the experiences of average Romanians. After returning to London, the group mounted a drama based on what they discovered.
"There was a mixture of excitement and eagerness to talk about what had happened and, at the same time, an awful lot of anxiety," said Churchill of the trip. "People had very painful doubts as to whether it had been a real revolution or staged, and who did they trust, and what did they want the future to be."
In the three-act play, 12 actors take on the parts of more than 50 characters. The middle act is derived from first-person testimony of actual Romanians, but the other two acts incorporate mythic icons, including an archangel and a vampire to create images of life under an oppressive regime.
The confused nature of the uprising is reflected in the title, "Mad Forest," which refers to the name of the legendary forest outside Bucharest, considered to be "impenetrable for the foreigner who did not know the paths."
"'Mad Forest' is an important play and its almost journalistic portrayal of the Romanian Revolution fits well into our Year of Globalization and Diversity," said Andrews. "The timely and contemporary nature of this play has offered us all the opportunity through research to uncover and understand the realities this play depicts." The cast's understanding of the Romanian experience was enhanced by working with Camelia and Sorin Pascu, a Romanian couple now living in Winston-Salem. The Pascus experienced the revolution first hand and helped the students prepare for their performances.
According to Andrews, the set, designed by Jonathan Christman, "lends itself beautifully to the epic, journalistic quality of the play. It will undergo wonderful transformations from the suggestion of city to the suggestion of countryside."
Performances are at 8 p.m. in the MainStage Theater in Scales Fine Arts Center. A 2 p.m. matinee performance is scheduled for Sunday, Nov. 15. Tickets are $10, $5 for students. They may be purchased at the box office at 336-758-5295. The box office is open weekdays, noon-5:30 p.m.
Categories: Arts & Culture, Events
Subscribe
Sign up for weekly news highlights.
Subscribe