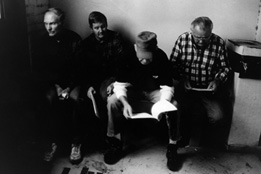 Documentary photographer Bill Bamberger will give a lecture and slide presentation titled, "Closing: the Life and Death of an American Factory" on Thursday, Nov. 12, at Wake Forest University.
The 8 p.m. talk will be held in Olin Physical Laboratory, Room 101.
The lecture is based on a book by the same title by Bamberger and writer Cathy N. Davidson. The book tells the story of the White Furniture Company, a family-owned North Carolina business that was bought out by a venture capitalist and later sold.
The free and public event is sponsored by the sociology department's Clarence and Adele Patrick Lectureship Fund.
For information, call 758-5495.