Main Content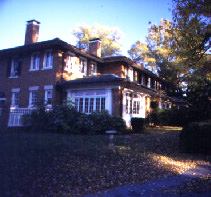 Members of a Winston-Salem family with long-standing ties to Wake Forest University have donated their interests in the family's home place-known as "Sunnynoll" – to the university.
Consisting of a residence and 6.2 acres, the property is located in Winston-Salem at the corner of Polo and Reynolda roads, about a mile from the university. Wake Forest has not determined its plans for the property.
The gift comes from brothers Egbert L. Davis Jr. and Thomas H. Davis and their sister, Pauline Davis Perry. The donors' late father – long-time Wake Forest trustee Egbert L. Davis-built the home in 1925.
"It was named Sunnynoll by our father because it is the highest point in the area and was an open field – a true sunny knoll," recalls Egbert L. Davis Jr., a 1933 Wake Forest graduate.
Davis family ties to Wake Forest date to the earliest days of the 20th century. The elder Davis, who died in 1974, graduated from Wake Forest in 1904. As a university trustee and prominent Winston-Salem businessman, he helped bring about the university's move to Winston-Salem in 1956. Davis Residence Hall on the campus is named in his honor.
His two sons-Thomas H. Davis and Egbert L. Davis Jr.-also became influential university trustees and supporters. Thomas H. Davis, founder of Piedmont Airlines, served five terms on the university's board of trustees from 1963 until 1988. Awarded an honorary doctorate degree in 1984, he was named a life trustee in 1989.
Egbert L. Davis Jr., retired president of Atlas Supply Company, served three terms on the Wake Forest board of trustees between 1969 and 1984 and chaired the board in 1977. He received the medallion of merit, the university's highest honor, in 1971 and was named a life trustee in 1986.
Two years ago, the brothers were joined by their sister-Pauline Davis Perry-in making a $1 million challenge gift for the Wake Forest School of Divinity, scheduled to open in fall 1999. Thomas H. Davis and his sister also established a scholarship in Egbert L. Davis Jr.'s name in the divinity school.
During the university's Heritage and Promise capital campaign in the 1980s and 1990s, Thomas H. Davis funded a professorship in the Calloway School of Business and Accountancy. In 1985, Egbert L. Davis Jr. created the Eleanor Layfield Davis Art Scholarship, in memory of his wife, for undergraduate students. In 1989, family members established the Egbert L. Davis Jr. Scholarship for undergraduates.
"We are extremely grateful to the Davis family for this latest example of their generosity to the university," said Wake Forest President Thomas K. Hearn Jr. "The Davis name is one of the most prominent names in Wake Forest history because of the family's long association with the university."
Categories: Community, University Announcement
Subscribe
Sign up for weekly news highlights.
Subscribe