Main Content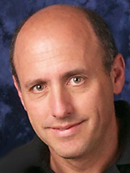 David M. Lubin, a renowned scholar of American art and film, has joined the Wake Forest University art department as the first Charlotte C. Weber Professor of Art.
A 1994 cover story in the Chronicle of Higher Education titled "Art Historian and Provocateur" described Lubin as shaking up the study of American art history with a fresh, interdisciplinary approach.
Lubin's first book, "Act of Portrayal: Eakins, Sargent, James," analyzes portraits by two 19th century artists and one novelist in terms of psychoanalysis, gender studies and literary and film theory. "Picturing a Nation: Art and Social Change in 19th Century America," published in 1994, views works of art not only in terms of their aesthetic characteristics, but also in terms of the social values of the era in which they were produced. In exploring the various levels of meaning attached to a painting, he draws upon a wide variety of sources such as letters, diaries, popular fiction, and military and political histories. His third book examines James Cameron's movie "Titanic" and modern American culture. It will be published in October as part of the British Film Institute's Modern Classics Series.
"David Lubin is a provocative scholar and stimulating teacher who brings both distinction and a national reputation to the art department and the university," said Margaret Supplee Smith, professor and chair of Wake Forest's art department. "With his interests in American visual culture and film studies, he augments significantly Winston-Salem's already formidable resources in those areas and we expect exciting new connections in American art and film between Wake Forest and other local institutions."
Lubin will teach courses on American art, film and visual culture. He was formerly the James M. Gillespie Professor of Art and American Studies at Colby College in Waterville, Maine, where he taught courses in art history, the history of cinema and American culture. He received his doctorate in American Studies from Yale University in 1983.
Art collector Charlotte C. Weber funded the endowed professorship. Weber is a prominent arts benefactor and a major collector of Impressionist art and ancient Chinese art. She provided the funding for the Metropolitan Museum of Art's Charlotte C. Weber Gallery of Ancient Chinese Art. She has served on the museum's board for the past 15 years. Weber also served on Wake Forest University's Board of Trustees from 1993-97. Both of her children are Wake Forest graduates.
Categories: Arts & Culture, Faculty, University Announcement
Subscribe
Sign up for weekly news highlights.
Subscribe