Main Content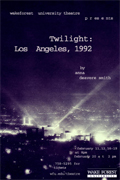 "Twilight: Los Angeles 1992," Anna Deveare Smith's documentary play about the Los Angeles riots in the aftermath of the beating of Rodney King will open at Wake Forest University Feb. 11.
Directed by Wake Forest Assistant Professor of Theater Cindy Gendrich, the play runs Feb. 11-12 and Feb. 16-20.
All performances begin at 8 p.m. in Scales Fine Arts Center's Mainstage Theater with the exception of a 2 p.m. matinee on Feb. 20.
Based on actual interviews of people who experienced the 1992 Los Angeles race riots, the play is a diverse collection of monologues, providing multiple views of the aftermath in the words of those who lived it. Actors portray gang members, middle-class housewives, Korean shopkeepers, law enforcement officers, journalists, crack addicts, painters and socialites.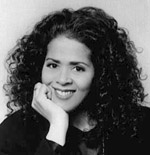 "This production reveals so much about the fabric of our culture and our priorities," said Gendrich. "It is a collage of different voices and the things they saw, experienced and felt while searching for simplistic answers to complicated matters."
Hailed as "the most exciting individual in American theater" by Newsweek in 1993, and profiled on "60 Minutes," Smith's work has been acclaimed by media, critics and audiences across the country. Smith received two Tony nominations for "Twilight," as well as an Obie, a Drama Desk Award, two NAACP Theatre Awards and numerous other honors. Smith currently teaches at Stanford University, where she is Ann O'Day Maples Professor of the Arts.
Tickets for individual performances are $12 for adults and $8 for students and senior citizens. For more information or to order tickets by phone, call 336-758-5295. Information is also available from the theater department Web site at www.wfu.edu/Academic-departments/Theatre/.
Categories: Arts & Culture, Events
Subscribe
Sign up for weekly news highlights.
Subscribe