Main Content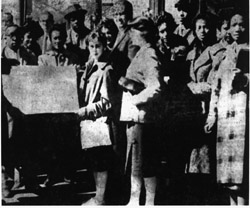 Wake Forest University and Winston-Salem State University will celebrate the 40th anniversary of a student sit-in at a downtown lunch counter with a series of events on Feb. 23 and Feb. 24.
The celebration, "Leadership and Civil Rights: Retrospective and Prospective Visions," will feature free and public events at both universities and in downtown Winston-Salem.
Lunch counter protests in Winston-Salem began on Feb. 8, 1960, when local resident Carl Wesley Matthews was denied service at the whites-only lunch counter of a Kress store. Demonstrations against segregated lunch counters continued for several months, including a historic sit-in by students from Wake Forest and Winston-Salem State on Feb. 23.
That day, Matthews and 21 students-10 from Wake Forest and 11 from Winston-Salem State-held a sit-in at Woolworth's and were arrested for trespassing. The students' nonviolent protest, along with other protests occurring in Winston-Salem, led to a desegregation agreement signed on May 23 by the city and local businesses. Matthews was the first black served at a desegregated lunch counter on May 25. The protest ended in 107 days.
"The sit-in is particularly significant because it was a non-violent protest that quickly led to social change," said Susan Faust, who conceived of the 40th anniversary celebration. "The sit-in happened a week after the more famous events in Greensboro, but the issue was resolved months sooner."
J. Howell Smith, a Wake Forest history professor, said the actions of young people were an important part of the civil rights movement.
"In communities all across the country, young people were initiating the civil rights revolution," he said. "It's very appropriate that these communities, like Winston-Salem, now go back and honor the civil rights leaders who pushed the cause and started the revolution in their own community."
Anniversary events will begin on Feb. 23 with a talk by Matthews at 10 a.m. in Dillard Auditorium, located on the Winston-Salem State campus in the Anderson Center.
That afternoon, a commemorative walk and historical marker dedication ceremony are planned. The walk will begin 2:30 p.m. at the Sawtooth Center in downtown Winston-Salem and end at the corner of Liberty and 4th streets, where the marker will be dedicated at 3 p.m. Winston-Salem Mayor Jack Cavanagh will preside at the ceremony.
A panel discussion featuring sit-in participants will begin at 7:30 p.m. on Feb. 23 at the Kenneth R. Williams Auditorium at Winston-Salem State. Maya Angelou, Reynolds Professor of American Studies at Wake Forest, will give welcoming remarks before the discussion begins.
Events on Feb. 24 will be held at Wake Forest. The day begins with a service featuring the Rev. George Williamson, a Wake Forest alumnus and a sit-in participant, at 11 a.m. in Davis Chapel, in Wingate Hall.
Afternoon events on Feb. 24 will include two panel discussions in Benson University Center's Pugh Auditorium. From 2:30 p.m. to 3:45 p.m., the discussion topic will be the historical significance of the sit-ins. The current status of race relations in the Triad will be discussed from 4:15 p.m. to 5:30 p.m. The lists of panelists will be announced at a later date.
The final highlight on Feb. 24 is a Unity Sing featuring music groups from both campuses. The event will begin at 7 p.m. in Wait Chapel.
During the two-day symposium, sit-in participants will also visit with classes at both universities.
"The anniversary celebration is being held not only to recognize the student demonstrators, but also to allow today's students an opportunity to learn from an earlier generation that helped shape history," said Faust, communication instructor and assistant to Wake Forest's senior vice president.
A documentary of symposium activities is being produced with support from R.J. Reynolds Tobacco Company to help share this experience with an even wider audience. The documentary will be provided to area middle schools, as well as libraries and universities statewide.
More information about symposium events is available on-line at civilrights.wfu.edu.
Categories: Arts & Culture, Community, Events
Subscribe
Sign up for weekly news highlights.
Subscribe