Main Content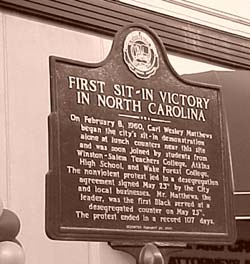 Last November, when Wake Forest University junior Sarah Yaramishyn listened to Bill Stephens talk about his part in the 1960 Winston-Salem sit-ins, she got it on tape.
Yaramishyn was one of seven Wake Forest students and seven Winston-Salem State University students who set out with tape recorders in hand to capture the memories of those who were instrumental in integrating the city of Winston-Salem. The tapes and transcripts of their interviews will be available this summer in Wake Forest's Z. Smith Reynolds Library, the Winston-Salem State library and the North Carolina Room at Winston-Salem's main library.
Howell Smith, professor of history at Wake Forest, and Susanne Warren, history instructor at Winston-Salem State, collaborated to help students record the oral histories of people, black and white, who were bridge-builders in the integration of the city.
"I really liked this project because it put a personal face on the civil rights movement," said Yaramishyn.
Smith taught the Wake Forest course, "Winston-Salem in Black and White: Integrating a City," while Warren taught "Applied History" at Winston-Salem State. Smith helped the students at both universities understand the historical context for their projects, while Warren worked with the students to teach them oral history methodology. Each student interviewed at least one person, transcribed the tapes and wrote a paper. The students were able to use voice recognition software-one of the newer tools available to help with transcribing oral histories.
"Winston-Salem needed a sense of how people met these issues in the 1960s. It makes it easier to talk about how we might address current racial issues," said Smith.
His comments were echoed by Brad Rhymes, a Winston-Salem State student who interviewed the first white person to graduate from the historically black institution, "The valuable lesson I learned is that the elimination of racism will not be achieved unless we as individuals, both black and white, make an overt effort, like those interviewed, to battle the evils of discrimination."
"When you speak of integration, people usually think of school integration," Smith said. "We focused on other aspects of integration in the community."
We were looking at organizations and individuals that helped bridge the gap between blacks and whites, said Torrey Burton, a Winston-Salem State junior. He interviewed Marshall Bass, the first black executive at R.J. Reynolds Tobacco Co. Bass was hired in 1968 to ensure fair treatment and advancement opportunities for black employees.
"He was just as excited to do this as we were," said Burton.
Smith said that was the case with several of the people interviewed. "Those who had made sacrificing efforts then should get credit," said Smith. "The people who are being interviewed find it a reaffirmation of the value of what they tried to do and are perhaps still trying to do."
Wake Forest senior David Lutes interviewed the Rev. Jerry Drayton, pastor of Winston-Salem's New Bethel Baptist Church and a civil rights activist. Lutes focused on Drayton's involvement with the Goodwill Committees, set up in 1960 to ensure "equal rights and opportunities for all citizens." The committees were made up of 20 of Winston-Salem's most powerful black and white leaders.
"When you actually get someone in conversation, you can hear their tone, "said Lutes, regarding the advantages of oral history. "He (Drayton) has such a nice resonant preacher's voice and he can express things so vividly and passionately."
Drayton is in his 80s, said Lutes. "There's a good story to tell and not a lot of time for the people who were there first hand to tell it."
"The most valuable aspect of this- even though as a historian I value the oral histories-has been the building of bridges between Winston-Salem State and Wake Forest with faculty colleagues and among students," said Warren.
The students traveled together to the Civil Rights Museum in Greensboro and the students and professors met a few other times to discuss their projects and exchange ideas.
"It is important to have opened the doors for more collaboration and understanding in the future," said Yaramishyn. "There is so much that these two groups of students can learn from each others' perspectives."
The joint effort will continue in the fall. Warren will teach an oral history class next semester and Smith will pass the baton to Edwin Hendricks, professor of history at Wake Forest, who will teach a Winston-Salem/Forsyth County history course. They will continue to work with students to build the oral history collection and to make it available to the public.
Smith, Warren and some of the students involved in the classes will present the project at the national Oral History Association meeting in Raleigh in October.
Categories: Arts & Culture, Community, Events, Valuing Diversity
Subscribe
Sign up for weekly news highlights.
Subscribe