Main Content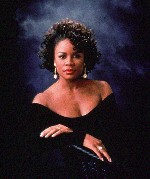 One of opera's brightest stars, mezzo-soprano Denyce Graves, will perform with the Winston-Salem Symphony on Feb. 10 at Wake Forest University in Wait Chapel.
The 8 p.m. concert is part of the Secrest Artists Series. Graves will also give two more performances with the symphony at the Stevens Center in Winston-Salem. Graves, who made her Metropolitan Opera debut in the role of Carmen, will sing excerpts from Bizet's most famous opera. She will also perform excerpts from her Metropolitan Opera role in "Samson et Dalila." She appeared in both productions opposite Placido Domingo.
Graves' performances will also include Elgar's "Sea Pictures" and jazz and blues tunes like "Can't Help Lovin' Dat Man" and "My Funny Valentine."
"We are excited about this cooperative effort between Wake Forest and the symphony," said Lillian Shelton, director of the Secrest Artists Series. "The Secrest Artists Series approached the Winston-Salem Symphony last year about working together to bring Denyce Graves to Winston-Salem."
In addition to three performances, Graves will teach a master class at 3 p.m. on Feb. 12 at Wake Forest. For an invitation, call 336-758-5757.
Graves made her debut at the Metropolitan Opera during the 1995-96 season in the title role of "Carmen." She returned the following season to lead the new Franco Zeffirelli production of the same opera. She sang the opening night performance of the Metropolitan Opera's 1997-98 season as Carmen with Placido Domingo. Graves appeared in the Metropolitan Opera's production of "Samson et Dalila" during the 1998-99 season.
Her television appearances include "Denyce Graves-A Cathedral Christmas," the award-winning BBC series, "The Royal Opera House," an Emmy award-winning profile on "60 Minutes" and "An Evening at the Pops" PBS presentation. She has also been a frequent guest on "Sesame Street."
Among her recordings are a new CD of spirituals, a recital album of French arias, a solo album of Christmas music and five full-length operas, including a recording of "Rigoletto" with Pavarotti. In November, she released her first solo recording of Spanish and Portuguese songs with piano.
Graves is a native of Washington, D.C., where she attended the Duke Ellington School for the Performing Arts. She attended Oberlin College Conservatory of Music and the New England Conservatory. She was named one of the "50 Leaders of Tomorrow" by Ebony Magazine and was one of Glamour Magazine's 1997 "Women of the Year."
She has been invited on several occasions to perform in recital at The White House.
She has also presented concert performances with the Chicago Symphony Orchestra, the Philadelphia Orchestra and the Washington Concert Opera. After a recent performance, the Washington Post said, "terrificÖdeeply musical throughout the evening, elegant and idiomatic in a wide range of material, singing with freedom and passion in a voice that seems to get only richer and more lustrous."
Mary Robert, general director of the Piedmont Opera Theatre, will give a pre-concert lecture at 7:10 p.m. in the balcony room of Wait Chapel on Feb. 10.
Tickets for Graves' Wake Forest performance are $35 for the general public. They are $25 for senior citizens and non-Wake Forest students. They are available through the University Theater box office at 336-758-5295. The box office is open weekdays from noon-5 p.m. beginning Jan. 29. For tickets before that date, call the Secrest office at 336-758-5757.
Graves' performances at the Stevens Center will be at 3 p.m. on Feb. 11 and 8 p.m. on Feb. 13. For tickets, call the Winston-Salem Symphony box office at 336-723-7919.
The concerts were planned in celebration of Black History Month. Wachovia Corporation is the corporate sponsor for these performances.
Categories: Arts & Culture, Events
Subscribe
Sign up for weekly news highlights.
Subscribe