Main Content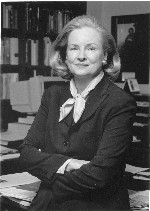 Nationally acclaimed author and legal scholar Mary Ann Glendon will give the Founders' Day Convocation address at Wake Forest University at 11 a.m. on Feb. 8 in Wait Chapel. Her presentation is part of the 2000-2001 Year of Ethics and Honor event series at Wake Forest.
Glendon's presentation, "One Nation: Two Cultures," will address human rights in the United States and abroad. The event is free and open to the public.
Glendon is the Learned Hand Professor of Law at Harvard Law School and has written more than a dozen books about American society. Her most recent work, "A World Made New: Eleanor Roosevelt and the Universal Declaration of Human Rights," will be published in March.
Also on Feb. 8, at 3 p.m., Glendon will participate in a moderated public discussion in Benson University Center's Pugh Auditorium. That presentation is titled, "A Conversation on Human Rights with Mary Anne Glendon."
The Year of Ethics and Honor is the fifth theme year celebrated at Wake Forest. Previously, the university has celebrated Science and Technology: the Next Millennium(1999-00), the Year of Globalization and Diversity (1998-99), the Year of Religion (1997-98) and the Year of the Arts (1996-97).
Other upcoming speakers include NPR and ESPN commentator John Feinstein who will speak about college athletics in the 21st century.
For more information about Year of Ethics and Honor events and a complete calendar, visit the Web site, www.wfu.edu/ethics. All of the events are free and open to the public.
Subscribe
Sign up for weekly news highlights.
Subscribe